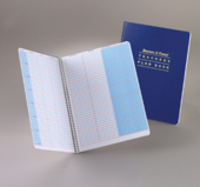 Teachers don't have time to redo the filing system, as the papers start piling up for the year. This resource kit will help teachers get and stay on track.
Melville, NY (PRWEB) September 2, 2008
Today, Pendaflex announced the launch of an online resource center for Teachers called the Classroom Resource Center. Designed to help teachers get ahead of the game, the site features a download, Guide to Classroom Organization, that will help teachers quickly set the game plan for a successful year. Pendaflex has also released a Teachers Plan and Back to School Kit that contains all of the essential items teacher's need to manage the unending amount of schoolwork that clutters their desks.
The beginning of the school year is an exciting time. Fresh notebooks with uncracked spines, pens that haven't yet been uncapped and neat rows of bins waiting to be filled. Fast-forward two weeks however and some teachers are already feeling overwhelmed and rushed for time.
"Teachers can't help it if the principal stuck three extra kids in their class, and the students tore through that first week's worth of lessons in two days, so they've been scrambling for new material," shared Sharon Mann, President of the I Hate Filing Club. "Teachers don't have time to redo the filing system, as the papers start piling up for the year. This resource kit will help teachers get and stay on track."
The Pendaflex Guide to Classroom Organization helps teachers bring order to their classrooms. Here's how it works:
1. Teachers should identify and sort classroom props, such as:

Different sizes of worksheet papers
Markers, paints, glue, and other project supplies
Oversize paper, like poster board
Other instructional materials uses regularly
2. Teachers should create a simple system for managing, filing, and returning student work -- and it'll be incredibly simple for both the teacher and the students to prepare for parent-teacher conferences.
3. It's easy to keep things organized when teachers have a designated place for each classroom activity. They will know where and how each item should be stored by the end of this short course.
4. Often teachers have to move their classrooms on a moment's notice. In this course, they will learn to create a mobile office that they can take anywhere with very little preparation.
5. Teachers find that when their desk is neat, it sends a great message to their students.
Through this short course they will find some of the ways they can eliminate clutter and work more efficiently.
Teachers can can also find products to help them stay organized at Pendaflex.com Products.
The Teachers Back to School Kit contains essentials that help teachers keep their desktops organized and important materials within reach. Included in this money-saving kit are the following items: Teachers Plan Book, PileSmart Desktop Tray, Oxford At-HandTM Sheet Protector Dispenser and a Leitz Allura® Stand Up Stapler.
The Teachers Back to School Kit is perfect for teachers who need to manage the endless amount of paperwork - lesson plans, notes and papers ready for grading - that clutter up their desks.
About Pendaflex:
Pendaflex is one of the world's premier manufacturers of organizational solutions, bringing innovation, efficiency and style to workplace and home settings. Committed to simplifying consumers' lives, Pendaflex produces a broad range of filing and organizational products, as well as provides solutions and resources through our website Pendaflex.com and PendaflexLearningCenter.com. Located in Melville, NY, Pendaflex is the principal U.S. brand of Esselte Corporation, a $1.2 billion office products company with subsidiaries in 28 countries and distribution in more than 120 countries.
###