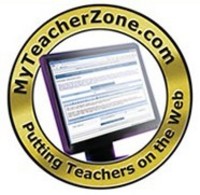 As a high school administrator who oversees technology, I can't imagine a better, more user friendly tool to communicate with students, parents and colleagues
Saint Louis, MO (PRWEB) October 27, 2009
MyTeacherZone.com launched a complete new look and feel to its website October 19, 2009. In addition, it has now added new capabilities to allow individual teachers to create their own teacher website fast and easy with a growing array of templates that can be selected. The company's previous niche market was focusing on teacher websites for an entire school or district enabling a standardized "look and feel" across the board.
Enhancements to the website include:

Improved Navigation - Web pages work in intuitive and consistent ways, making it easier for visitors to find what they are looking for and know where they are within the website. Faster Login for current registered teachers is provided in the website header.
Improved Look and Feel - Enhanced graphics and the new page layouts provide visitors with an improved user experience. "Real time", dynamic news feeds related to teachers and education are now displayed on the left navigation of each page.
New Features - Teachers can create new personalized teacher websites fast and easy by selecting a template, completing a short survey of information, and deciding on a payment method. All templates in the library are "dynamic", allowing them to expand to any screen resolution which takes advantage of the new wide screen monitors on the market.
New Price - All new teacher websites have been reduced to a flat $39 per year for a limited time. This price includes all options including the ability to upload homework assignments and resource files.
Testimonials - Dozens of testimonials from currently registered teachers are publicized explaining how MyTeacherZone.com has improved their communication with parents and students.
"I love the tool in my classroom. It not only gives me a valuable resource for keeping my students up to date, it gives me a great tool for parents to stay up on their students and their work," explains James A. from F.H.N. "As a high school administrator who oversees technology, I can't imagine a better, more user friendly tool to communicate with students, parents and colleagues," continues Ed. G., principal of Hardin Middle School.
MyTeacherZone.com provides a way to create a teacher website fast and easy. Teachers can create a personalized welcome page with photo, input their schedule and upload class syllabus', create calendar announcements and downloadable homework assignments, create Frequently Asked Questions, Blog discussion posts and a Resource page that allows for general announcements, links to other websites and downloadable content for parents and students. Other pages include a detailed class information page and a contact page. Also, additional web pages can be created by the teacher to complement their teacher website.
MyTeacherZone.com was founded in 2006 as a resource to assist Teachers and Administrators adapt to the change in schooling today due to the burst in the technology field.
# # #