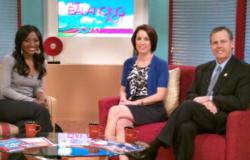 Huntington Beach, CA (PRWEB) April 11, 2012
Award-winning educational publisher Teacher Created Materials (TCM) was featured on Lifetime Television's popular morning show "The Balancing Act", on a segment called the Parent-Teacher Corner, where they showcase strong home-school connection products and ideas for parents wanting to support their children's education. TCM's Editorial Director, Conni Medina, shares the stage with the Director of the National Association of Elementary School Principals Rob Monson to talk about the importance of reading at home and the award winning products Take-Home Backpacks, and Kids Learn!, published by TCM. Conni uses her extensive background as a teacher and literacy specialist for LAUSD, as well as her perspective as a parent, to showcase all of the key benefits these products.
In the episode, viewers learned that on average, students can experience up to 2-3 months of learning loss per year while they are away from school on summer and holiday breaks. Take-Home Backpacks provide a fun and engaging solution for students to reinforce reading skills and other subjects during their school breaks, and can lessen the amount of time a teacher has to re-teach students in the fall. Teacher Created Materials developed Take Home Backpacks and Kids Learn! specifically to fill the gap they saw in away-from-school instruction.
"It's a pleasure to have Teacher Created Materials on the "Balancing Act" to introduce their positive educational solutions to our community and our viewers. The Take-Home Backpack is a wonderful tool to keep kids reading and learning after school and on breaks," says Doug Campbell, Founder and Executive VP of Programming for "The Balancing Act".
Daily reading at school and at home helps children become better readers and learners. Take-Home Backpacks and Kids Learn! were developed by classroom teachers who understand the science behind reading and who know how to translate that science into books and activities that will engage students and build reading skills and habits. The standards-based activities reinforce information learned during the recently concluded school year, help stimulate young minds to read, and offer a great opportunity for parents and children to bond and foster the home-school connection.
About Teacher Created Materials
Teacher Created Materials is one of the most recognized names in educational publishing. For 35 years, TCM's award-winning resources have been used by educators in all 50 states and 99 countries. Offering a broad range of innovative curriculum resources, TCM's products support reading, writing, mathematics, social studies, science, technology, early childhood, and professional development for Grades PreK-12. All of TCM's resources and professional development reflect the latest research, best classroom practices, and achievement-oriented methodologies. The practical and teacher-friendly solutions created by Teacher Created Materials help teachers do what they do best – reach, teach, and inspire students everywhere.
About "The Balancing Act" on Lifetime Television
"The Balancing Act" show airs daily on Lifetime Television at 7:00am (ET/PT). "The Balancing Act" on Lifetime Television is America's premier morning show that's about women, for women and trusted by women.
About BrandStar Entertainment
BrandStar Entertainment is well known for their cutting edge content driven women's programming, including "The Balancing Act" on Lifetime Television. The Balancing Act TV show inspires and empowers women with entertaining and educational segments, placing them in the best position to achieve success in every aspect of their lives.