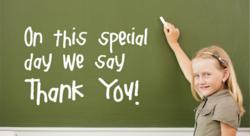 We were surprised to learn the very low number of adults who show appreciation for educators who had a large, positive impact in their lives
Lakewood, NJ (PRWEB) May 03, 2013
On May 7, the National Education Association will celebrate the 33rd annual National Teacher Day. According to the NEA, National Teacher Day is "a day for honoring teachers and recognizing the lasting contributions they make to our lives." In time for this year's celebrations, Kars4kids, the leader in national charity car donations that uses funds raised by tax-eligible car donations for educational programming around the country, conducted a survey on how teachers impacted US adults and ways they have expressed their appreciation.
The new Kars4Kids survey revealed that most adults (75 percent) do not express appreciation to their former teachers despite that the same 75 percent of respondents acknowledge that their teachers had a direct impact on their future successes. The survey also indicated that 80 percent of adults recognize that their work ethic, time spent as a community volunteer, and even career choice – including those who became teachers themselves – was a direct result of teachers who inspired them in the classroom.
"We were surprised to learn the very low number of adults who show appreciation for educators who had a large, positive impact in their lives," said Avi Gordon, Chief Operating Officer of Kars4Kids. "The difference an excellent teacher can have is massive. Some studies have even shown that a student with even one excellent teacher for one year would gain about $4,600 in lifetime income compared to a student of similar demographics who has an average teacher."
Additional findings show that 78 percent of U.S. adults felt an out-of-classroom experience, including before or after school activities, with their teacher enhanced their learning. Of the 78 percent who felt their learning was enhanced, 38 percent experienced multiple out-of-classroom experiences which directly and positively impacted the level of education received. Over half of respondents (61 percent) believe that teacher taught them skills outside of the standard curriculum; including how to advocate for themselves.
Some additional findings show:

More than half of U.S. adults feel the teachers who had the biggest impact in their lives were educators in grades 9-12.
Nearly three quarters of adults said they would want their children to have the same teachers they did.
The survey also revealed that nearly 40 percent of respondents would like to see excellent teachers in their communities rewarded with bonus pay for consistent, positive feedback from parents and students, as opposed to a mere 20 percent who believed those same teachers should be rewarded with performance-based bonuses measured by student results.
Kars 4 Kids is a non-profit organization that works to give back to the community through a variety of education, youth development, family outreach, and faith-based programs. They provide an array of services to children and families including educational programming, school placement, tuition assistance, mentorship programs, cultural activities, religious instruction, recreation and guidance counseling.
For the latest information about this program and other car donation opportunities, please visit http://www.kars4kids.org, or follow Kars4Kids on Twitter and the Kars4Kids Facebook page. Further information about the charitable work of Kars4Kids can be found on the Kars4Kids blog.
Survey Methodology
This survey was conducted within the United States on behalf of Kars4Kids from May 1-2, 2013, among 1,000 adults ages 18 and older. This survey is not based on a probability sample and therefore no estimate of theoretical sampling error can be calculated. For complete survey methodology and results, please contact 5W Public Relations.
###