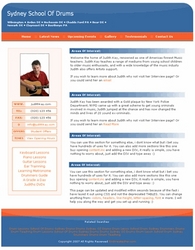 If you want to get noticed in today's world then you must advertise where the eyeballs are ... and these days those eyeballs are on the computer screen.
Sydney, NSW (PRWEB) February 12, 2008
Students and consumers are now relying upon online searches to find services in their local area, finds a recent study by comScore Networks, an Internet marketing data analyst group. It revealed that the Internet is the first place students of all ages go for information concerning lessons, classes, tutoring and other educational assistance. Will Riley, private drum tutor and founder of findmeateacher.com, says "it doesn't hold true any longer that classified ads and personal referrals can effectively spread the word about any teacher or tutor's expertise."
These latest findings uncovered that the majority of people, 66.67 percent of those surveyed, now use online search as their first source of all local business information. This fact is supported by TMP Directional Marketing (formerly Yellow Pages Online Search and Marketing), which estimates that local online search is a $1 billion market and still growing. TMP's CEO Stuart McKelvey strongly suggests that advertisers compare the allocation of offline resources with online search investments.
This study, the first of its kind, also found that only 33 percent of consumers still use printed Yellow Pages when trying to find any type of local services. Since people appear to be spending more time connected to the Internet than reading the newspaper or watching the news, Will Riley concludes, "If you want to get noticed in today's world then you must advertise where the eyeballs are ... and these days those eyeballs are on the computer screen."
The overwhelming success of Facebook and Myspace sites have re-enforced people's desire to spend an increasing amount of time online. Smart advertisers have caught on to this and are now using the Internet's scope and flexibility to attract a larger target audience.
Will Riley reminds all teachers, tutors and instructors that the Internet is an ideal vehicle for anyone who doesn't have a huge marketing budget. However, even though countless web sites offer free directory set-up for anyone wishing an Internet presence, Mr. Riley warned that majority of these sites only ever provide users with a small spot buried in between tacky advertising.
"There is more to online success than simply being mentioned on any old web site. We give teachers, tutors and instructors their own individual and professional web presence. The only visible advertising is about them, their services, their conditions and their contact information. We also train them how to get this online presence to the top of the search engine results. When that happens, so do calls from prospective students; and that's where the success really lies."
For additional information or a free copy of the report "Tips You Can Use Right Away To Attract Cash Paying Students To Your Lessons" simply visit http://www.findmeateacher.com/free-report and find out how easy it is to take advantage of the Internet to attract targeted, local students in an efficient and cost-effective manner.
About FindMeATeacher.com:
FindMeATeacher.com is an online education directory site that has successfully connected students and teachers worldwide since October, 2004. It assists teachers, tutors and instructors in the development of their professional online presence, which, through exposure from major search engines, increases their number of new student sign-ups.
Contact:
Will Riley
Founder
Find Me A Teacher
+61402277795
findmeateacher.com
# # #