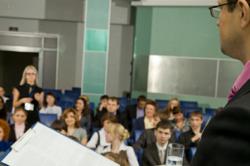 Los Angeles, CA (PRWEB) August 22, 2012
The National Financial Educators Council (NFEC) offers a complimentary overview of their financial literacy professional development coursework – the Certified Financial Education Instructor training program. The classes take place virtually with educators delivering material through online streaming videos on August 28th and 29th. This free class will provide those interested in teaching money management effectively and gaining the credentials to improve their outreach efforts.
The Certified Financial Education Instructor coursework and money management lesson plans helps those that have a desire to teach kids, teens and adults practical financial lessons. The CFEI training is part of the NFEC's Financial EduNation Campaign which provides their Life Stages Curriculum to those that want to teach money management lesson plans with all ages of participants.
The Certified Financial Education Instructor (CFEI) professional development course is approved by the Certified Financial Planner Board of Standards. The CFP Board is a regulatory organization that developed the standards of competency and ethics of financial planners. Graduates of the program that are financial planners earn 4 hours on Continuing Education Credits issued by the CFP Board and can use the designation of Certified Financial Education Instructors.
The NFEC trains people on how to teach financial literacy effectively and also enlists qualified financial professional to their Curriculum Advisory Board. "Concerned citizens globally play a vital role at the NFEC. Their contributions to the development of the Life Stages Curriculum and CFEI training coursework help us bridge the gap between theory-based education and what people can use in the real world," states Vince Shorb the of the National Financial Educators Council.
The NFEC is a social enterprise that provides training and material to those that seek to improve the financial capability of people globally. The NFECs' Certified Financial Education Instructor (CFEI) coursework was designed to help educators, financial professionals and concerned citizen effectively share financial literacy lesson plans to people in their community. Graduated of the course earn their Certified Financial Education Instructor status and earn four hours of Continuing Education credits through the Certified Financial Planner Board of Standards (CFP Board).