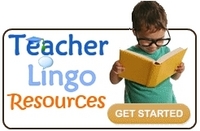 Plano, TX (PRWEB) November 8, 2010
TeacherLingo.com launches new section for teachers to buy and sell their lesson plans, worksheets, printables and other items online.
Teachers can now earn extra money for all of the effort they do every day to teach our kids. Those extra hours can now be turned into extra money. Plus those great materials won't go to waste and can be shared with other teachers.
The new teacher resource marketplace will automatically create a thumbnail image, a sample preview and a PDF document from the original. As of launch they support over 200 different file formats. With just a few clicks teachers can have their files uploaded and ready to sell.
About TeacherLingo.com
TeacherLingo.com is an online teacher community that connects teachers and educators from every level. It's a place where teachers can share ideas, make friends, ask questions, learn from each other or even vent about the school day.
The website, TeacherLingo.com, offers free teacher blogs, message boards, photo sharing, lesson plans, worksheets and much more. TeacherLingo.com makes it easy to find teachers, explore new teacher blogs and even follow the teacher conversations on Twitter.
###