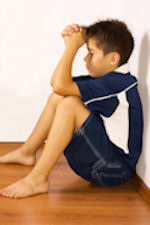 Such a unique way to think about self-esteem....I'm learning right along with my kids! Julie (Mother of 3)
Austin, Texas (PRWEB) December 05, 2012
Adventures in Wisdom™, creator of the WISDOM System for Mentoring Kids™, is announcing a free 1-hour teleseminar on December 11, 2012, to teach parents how to help their kids handle the ups and downs of growing up without getting down on themselves.
"When kids get down on themselves, they don't know how to pull themselves out of it. But what most kids don't realize is that low self-esteem is caused by 'errors' in thinking – it's a mindset issue," shared Renaye Thornborrow, founder of Adventures in Wisdom™. "Learning how to recognize common errors in thinking and to develop new habits of thinking is a skill that parents can teach their kids and this teleseminar is designed to start the conversation."
In the teleseminar parents:

Learn three traps that crush children's self-esteem and how their kids can beat those traps.
Receive coaching tips and a free self-esteem assessment that they can use to support their kids.
Get several fun activities to help their kids start building powerful self-esteem within minutes.
Parents, mentors, and educators can sign up for the free teleseminar at http://teachkidsselfesteem.com. If they can't make the call date and time, they can still receive a recording of the call just by registering.
To learn about other free teleclasses from Adventures in Wisdom visit http://adventuresinwisdom.com/free-training.
About Adventures in Wisdom
Based in Austin, Texas, Adventures in Wisdom™ helps parents bring personal development into their parenting by giving them step-by-step tools to show their kids how to handle the ups and downs of growing up without getting down on themselves; how to think for themselves and make good decisions; and how to go for their dreams and make them happened. Their breakthrough life coaching program for mentoring kids uses short stories and activities to teach children ages 6-12 these powerful skills. For more information call 860-580-WISE or visit http://www.AdventuresInWisdom.com.