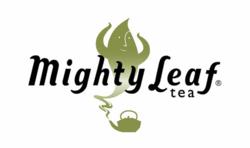 From designing commercially compostable tea pouches to forging unique partnerships with tea growing communities, being a responsible global citizen has always been a priority for Mighty Leaf Tea.
San Francisco, CA (PRWEB) April 10, 2013
New coupons for Mighty Leaf Tea make charitable giving easy, delicious, and rewarding. By using these free printable grocery coupons currently available at CommonKindness.com, tea lovers can save $1 at the checkstand on the purchase of one 15-pouch carton of Mighty Leaf Tea, while generating a contribution to their favorite 501(c)(3) nonprofit organizations.
CommonKindness.com is the online coupon website that donates 20 percent of its coupon redemption revenues to the nonprofit organizations shoppers designate when they visit CommonKindness.com, download coupons, and redeem them at the checkstand. The shopper can choose to support any 501(c)(3) organization, ranging from a national organization like the American Heart Association to their local library foundation or PTO.
"From designing commercially compostable tea pouches to forging unique partnerships with tea growing communities, being a responsible global citizen has always been a priority for Mighty Leaf Tea," said Bliss Dake, Chief Marketing Officer of Mighty Leaf. "That's what made CommonKindness an ideal option for our couponing efforts. It empowers our consumers to make the world a better place."
About Mighty Leaf Teas
A Mighty Leaf tea pouch contains individual whole tea leaves, just as they look after being plucked and processed in the garden. The purest, most natural ingredients deliver the richest tea flavors. It is for this reason that Mighty Leaf artisan teas are always whole leaf teas--never cut, torn or crushed.
From the beginning, the company's goal has been to deliver nothing but simple, genuine ingredients. This philosophy guides the development of Mighty Leaf's unique artisan teas, each with an alluring taste profile. The flavors of these teas draw from the bounty and variety of the earth in bold and delightful ways.
Mighty Leaf Innovation
As a company long at the vanguard of the premium tea market, Mighty Leaf Tea has a history steeped in innovation. The whole leaf tea bag that has come to dominate the sector was originally developed by Mighty Leaf. In 2006, the company specially redesigned its distinctive, handcrafted tea pouches to make them commercially compostable. Specialty Coffee Association of America awarded Mighty Leaf the "Best New Packaging" honor that same year in recognition of the achievement.
"America's nonprofit organizations have been hit hard by the same ongoing economic challenges many of their supporters have faced in recent year," said Sarah Schloemner, president of CommonKindness. "The partnership between Mighty Leaf and CommonKindness creates a new source of sustainable funding for these noble organizations."
To use printable grocery coupons for Mighty Leaf Tea, shoppers simply go to CommonKindness.com, select the coupons they want, print them out, and head to the store. Twenty percent of the coupon distribution fee will be donated to the nonprofit group of the shopper's choice for each CommonKindness coupon redeemed at the cash register. To find Mighty Leaf Tea at a nearby store, go to the Mighty Leaf Tea store locator.
About Mighty Leaf
Mighty Leaf blends a broad range of artisan specialty teas from the finest ingredients from around the world and distributes its brand primarily through specialty retailers, high-end restaurants, and premier hotels and resorts across North America and globally. Its proprietary handcrafted manufacturing process and its distinctive packaging combine to make it a key premium brand with a strong affinity among loyal consumers. The company's superior customer services and comprehensive customer support programs make Mighty Leaf a one-stop solution for retailers, food services distributors, and hospitality providers.
To learn more, go to MightyLeaf.com or call (415) 472-1780.
About CommonKindness
CommonKindness is the new free grocery coupon website that operates on the principle of kindness and benefits consumers, nonprofit organizations, and brands. CommonKindness is revolutionizing the online coupon industry by eliminating coupon loading and change costs, charging brands only for coupons redeemed, and giving 20 percent of revenues to nonprofit organizations of the shopper's choice.
To learn more, go to CommonKindness.com or call (415) 729-9658.