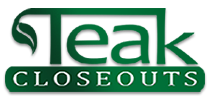 2012 is the year of the table....we have a little something for everyone and one of the largest assortments of tables on the web today.
Lexington, KY (PRWEB) January 31, 2012
Leading the charge in 2012 is over 100 reclaimed teak tables purchased from British Gardens. The tables start at 62" and stretch as large as 142" – to seat 14. The wood used in the tables is sometimes referred to as recycled, salvaged, or reclaimed and come from various sources including old homes, furniture, and home parts. The reclaimed teak tables are available separate or in a discounted teak dining table set. Each teak table is uniquely different and has its own history of wear.
For the few not envious of antique and recycled furniture, the standard extension table is also large and in-charge. This year, Teak Closeouts presents its best selection of standard extension tables including oval and rectangle designs with lengths exceeding 118". The larger extension tables were a bit more difficult to secure in the past, but will be available in larger quantities for 2012. This also includes a nice mix of widths such as a narrow 36", standard 42", and larger 48" in addition to the various lengths. For a compromise between the standard extension table and a recycled/used look, there is an assortment of weathered and washed tabletops resembling a distressed patina.
And for the truly unique and adventurous, Teak Closeouts has some limited one-of-a-kind designs in quantities of one and two. These tables were either prototype designs or premium left-over stock that was never massed produced in large quantities. Prototype designs are when a manufacture produces one or up to five variations trying to decide on final specs for mass production. Sometimes the prototypes don't make it out of design due to final cost concerns or management decisions.
The increased inventory in tables and chairs for 2012 will help secure Teak Closeouts as one of the web's leading teak furniture sites. "In 2011, we were limited in table inventory subject to our policy of searching true closeout stock. We knew we had to get out there and do a better job of finding quality tables for 2012, so that was a priority for us in 2011", says Han Solo, director of Teak Closeouts. Furthermore, "We truly believe 2012 is the year of the table – or at least for us. I think what we have is a little something for everyone and one of the largest assortment of teak tables on the web today."
Complementing the large selection of new dining tables is also an expanded variety of teak folding and arm chairs. The combination of increased table and chair inventory allows Teak Closeouts to broaden its selection of discounted table sets. The paired table and chair sets feature lower prices and substantial freight savings to the customer.
The inventory has never been better at Teak Closeouts. The majority of the new table inventory will start arriving in early March 2012 and continue throughout spring and summer. The team at Teak Closeouts works hard to find desirable and unique items with quality and value at the forefront of all decisions.
COMPANY INFORMATION
Teak Closeouts, started in 2008, is a small independent website devoted to the acquisition of excess, bankrupt, canceled orders, or otherwise reduced teak furniture stock. Teak Closeouts owns and operates a warehouse in Indonesia where they collect, clean, and repackage most of the items offered on the website. All product ships to the Lexington, Kentucky store and is distributed from this location.
In general, customers can expect to save 30%-70% off their original price. Teak Closeouts prides itself on quality teak that every person can afford. The most popular products sold include teak benches, teak armchairs, teak dining tables, and backless benches. In addition to saving money, Teak Closeouts also has an eye for finding some of the most desirable and attractive patio furniture designs on the market.
The website is simple and easy to navigate while also offering a one-page checkout. Most product pictures are taken in the Indonesian warehouse and all pictures feature visual dimensions for a more realistic and easier concept. The customer can easily identify the product they desire, checkout, and finish within 5 minutes.
Teak Closeouts offers a 30-day 100% money-back guarantee and an easy one-price fixed shipping rate for the 48 continental states. Shipping is typically within 48 hours and arrives within 2-5 days.
###