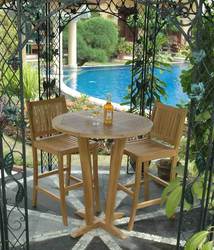 When you look around your home and garden, be inspired. BeFurnished
Stamford, CT (PRWEB) January 23, 2008
Just as seasons change, so does taste in patio furniture. BeFurnished.com is aware of their patrons' evolving tastes in style and design and are offering several new designs this season.
Whether consumers are looking for furniture to entertain with or to relax in, BeFurnished is sure to have what they want--either in this season's new line, or with their classic designs. The Boston Teak Bar Set, one example of a new furniture set comes with a table and two chairs made with 100% Grade A teak. This high sitting bar automatically evokes thoughts of warm temperatures, soothing waters, and tropical drinks near the beach. If customers are looking for something to relax in, the new Daytona Steamer is a great choice in lounger chairs.
Regardless of what the style is though, one thing that remains the same at BeFurnished is the idea that teak wood makes the best choice for outdoor patio furniture. The fact that it is durable, requires very little maintenance, and is aesthetically appealing is what seems to encourage people to make it their first choice in outdoor patio furniture. In fact, these very qualities make teak one of the most valuable timbers in the world.
When newly purchased, it comes in an attractive honey brown color and with time it turns a lovely, soft shade of grey. If the original color is preferred, light sanding easily transforms it back.
People also like the fact that it is completely unaffected by suntan lotion, body oil, or waters laden with chlorine or salt. The natural elements do not seem to affect it either. This means there is very little maintenance, and it can be used exactly how it is intended to be used.
BeFurnished realizes their customers are the reason for their success. This is why they choose teak--they want to give their patrons the best product they possibly can. In fact, they fully guarantee their outdoor patio furniture, and will even match the price of the same item advertised on other websites as long as they have it in stock.
One of the mottos at BeFurnished.com is, "When you look around your home and garden, be inspired. BeFurnished," and when consumers choose BeFurnished's line of patio furniture, they are sure to "be happy" with their new purchase.
###