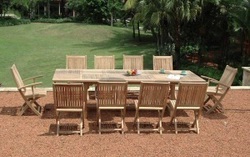 Without you, we are nothing!
Stamford, CT (PRWEB) December 19, 2007
Furniture made of teak is quickly gaining popularity in the United States, and outdoor teak tables are no exception to that rule. They are durable, long-lasting, and very stylish--three important qualities consumers consider when making such a large purchase.
BeFurnished realized that teak patio furniture is an important investment to their customers. People want attractive, quality furniture that will offer many years of enjoyment. Teak wood presents the qualities their shoppers want--something easy to clean, resistant to stains, with the ability to withstand sometimes extreme changes in the weather.
Experts call teak wood the "king" of the hard woods because of its durability, water repellency, and resistance to rust when joined with metal. It is the strongest of all the hard woods, and unmatched by any other for its beauty.
However, it's no new news that one of teak's properties is its durability. It has maintained its reputation for being strong since the Middle Ages, when people began building their ships with it. Today, in addition to outdoor furniture, shipbuilders use it for decking on aircraft carriers.
The versatility of this wood also gives it a special appeal. The Naples Rectangular Extension Table, one of the teak tables at BeFurnished exemplifies this perfectly. It combines stainless steel hardware, one of the most practical forms of alloy available, with teak wood in a sophisticated checkerboard design, giving it a modern yet classy look. The use of teak wood and stainless steel, both very durable products, make it a very practical choice for the consumer. Perhaps all of these reasons compiled are why it has become one of their top selling tables.
The main policy at BeFurnished is, "Without you, we are nothing!" This is a clear statement as to how important customer satisfaction is to them and their business. Their quality tables are proof of that--their tables are strong, can withstand just about anything, and will remain beautiful for many years to come. To them it's not just a table to sell to their patrons, but rather an investment the consumer takes seriously.
For more information on outdoor teak furniture please visit BeFurnished.com.
# # #