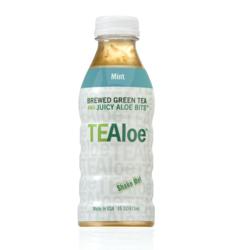 LAS VEGAS, Nevada (PRWEB) May 21, 2013
The new iced tea, TEAloe, has won first place in the in the 2013 North American Tea Championship based on TEAloe's superior evaluation by the Championship Judging Panel.
TEAloe is a Ready-To-Drink, organic, fair trade brewed green tea combined with organic aloe vera bits, which add a juicy and, now, award winning, dimension to its combination of ingredients. TEAloe is also gluten-free and is made In USA.
The beverage was created by TEAloe LLC, funded by Gofredy Salazar and Diana Cruz, both industrial engineers with experience in the food & beverage and retail industries.
Available in four flavors, Original, Peach, Passion Fruit and Mint, the winner was TEAloe Mint in the RTD, Green-Flavored category of the competition's 2013 Iced Tea Class. In all, almost 200 teas were entered in the competition's Iced Tea class.
TEAloe is available at Safeway, The Fresh Market, Whole Foods Northwest region, South region and Florida as well as Raley's. The growing TEAloe retail distribution is spearheaded by the beverage consultant, Jim Tonkin, and a sales force led by Mark Maggio with broker support by Presence Marketing.
The North American Tea Championship is an independent competition, judged by professional cuppers to distinguish the highest quality and best tasting teas commercially available in the North American marketplace.
To choose TEAloe as the first place winner, the judging panel assessed each submission through blind organoleptic analysis of characteristics including, flavor, body, color, clarity, and balance. The ratings of each characteristic were then used to calculate an overall numerical value on a 100-point scale and winners were determined by rank. TEAloe's winning score was higher than any other tea in its category.
The North American Tea Championship is produced by World Tea Media, a division of F+W Media, Inc.
Learn more about TEAloe at http://www.tealoe.com.
Contact:
Diana Cruz
TEAloe LLC
dcruz(at)tealoe(dot)com
305-328-3899