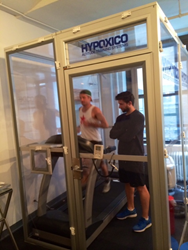 "I am a man of science and technology." - Scott Fishman
(PRWEB) October 20, 2014
Team All-American announced that it will now partner with Hypoxico to provide the company's high-altitude systems to Team All-American athletes.
Hypoxico offers a wide variety of products and applications to help athletes of all kinds to increase their performance, especially when it comes to improving athletic performance by triggering the onset of a range of physiological adaptations geared toward enhancing the efficiency of the body's respiratory, cardiovascular and oxygen utilization systems. Through this partnership, Team All-American can supply equipment through sales or rentals to athletes across the entire world.
"This is a huge step forward for Team All-American, and a great chance for our athletes to take the next step in their training to really push for results, thanks to Matt Formato and the rest of the team at Hypoxico," said Scott Fishman, Founder of Team All-American. "Shalane Flanagan, LeBron James, Tiger Woods, Michael Phelps and many marathon winners and elite athletes have all used high altitude training equipment. The fact that the recreational athlete now has access to these training methods is groundbreaking and is a really unique opportunity."
As part of the partnership, athletes who purchase high-altitude training equipment and applications have access to a special discount. To receive this discount, you can mention that you were referred to Hypoxico through Team All-American when placing your order.
For the average runner, finding large hills or mountains to use for high altitude training can be difficult if they're not geographically located in the perfect spot. The products offered by Hypoxico through Team All-American allow people to simply train where they live, or to come on-location and train with Team All-American with their equipment. Scott was recently featured in a segment on CBS to talk about the benefits of high-altitude training and this new ability to train from your home.
"Instead of having to fly out to Colorado to train in the Rockies, people can actually get all the benefits of high-altitude training right here in the middle of New York thanks to these products and services," said Fishman. "It's backed by science, and it's something that every person can benefit from.
"Team All-American is an organization devoted to helping runners worldwide achieve their goals, whether it be their first mile, their first marathon or a personal record time. Using the Team All-American methodology, runners will be able to reach their goals through a carefully planned and detailed process that considers all aspects of their health and lifestyle.
For more information, visit http://www.teamallamerican.com and http://www.hypoxico.com
Contact:
Scott Fishman
Team All-American
(212) 203-5789
train(at)teamallamerican(dot)com