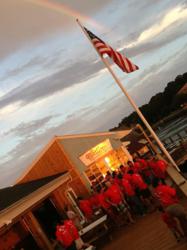 we are honored and humbled to contribute in any respect to an event that honors a man that gives at all levels
Norfolk, VA (PRWEB) October 28, 2012
Inspired by the demonstration of human resilience as exhibited by Navy War Veteran Brad Walker, Exchange USA joins 23 other companies in sponsoring efforts for the Team Brad Fundraiser. Primary sponsor Sarge's List (http://www.sargeslist.com) assembles cast of supporters for local event at Chick's Oyster Bar, a popular Virginia Beach waterfront venue.
September 2011, Afghanistan. Winning gold at Paralympics wasn't exactly on Lieutenant Brad Snyder's bucket list. An IED changed all that. Completely blinded in both eyes, Snyder rebounded to win two golds and one silver medal at the 2012 London Paralympics. As testament to his dedication and intensity, his gold medal win in the 400 meter Freestyle event came precisely one year to the day of his injury. This incredible feat is the cornerstone of an effort to help other wounded veterans transition to some semblance of a normal and productive civilian life.
The Team Brad Fundraiser was a culmination of a six week effort that included T-shirt and wrist band sales in addition to the silent auction and donations that grossed over 10,400 for the cause.This fundraiser was a 6 week campaign for t-shirt sales and donations which grossed $10,400. Attending the event were Snyder's friends, coworkers, former teammates as well as other enthusiastic local supporters who've followed his success in the news. Bruce Gunter, an Exchange USA representative stated "we are honored and humbled to contribute in any respect to an event that honors a man that gives at all levels."
At Lt, Snyder's request, the net proceeds were given to the COMMIT Foundation, a small nonprofit working to make a big impact in the lives of men and women as they transition from the uniformed services to the private sector. By harnessing the power of mentoring and relationships, COMMIT creates serendipity and ensures the first steps veterans take out of uniform are the right ones. COMMIT provides a great deal of personal attention to a small group of veterans who benefit from extra assistance. Their website can be found at http://www.commitfoundation.org
About the company:
Exchange USA is based in the newly revamped East Beach Shopping Center at the corner of Shore Drive and East Little Creek Road in Norfolk, VA, home to the world's largest Navy complex. Founded in 2009, Exchange has quickly become a market leader by financing lifestyle products and travel for the civilian and military community, They are located at 4039 E Little Creek Rd and can be reached at 757-695-3388 or through their website at http://www.myexchangestore.com