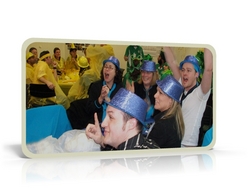 Businesses are now empowered to run their own fun team building activities.
(PRWEB) February 11, 2010
FUNergizers.com is a new website providing businesses a range of fun, highly interactive team building activities that they can run themselves. Michael Symonds, Managing Director of Interactive Events and the creator of Funergizers, has been designing and delivering team building activities for the past 10 years. He said, "Businesses can now run their own fun and highly interactive programs that team building companies, ourselves included, would charge thousands of dollars to deliver."
Funergizer Team Building Activities are fun, themed team building games that are 30 minutes to 2.5 hours in length. Each activity provides you with an a series of instructional videos, written instructions, printable props, checklists and an easy 13 step by step process to ensure that you don't miss a thing and organize the best team building activity possible.
"When the global financial crisis started, we noticed a real drop in businesses wanting team building activities. Speaking with some of our regular clients we discovered that after they stabilized their business, they saw the need of doing something to raise staff morale, build relationships and recreate trust with their existing staff, however budgets were still an issue. So we developed Funergizers. We call them Funergizers because they energize your team through fun."
Mr Symonds said that the Global Financial Crisis was an instrumental factor in him revisiting his original company vision. "When Interactive Events was first started, our aim was to infect the world's workplace with fun. Our plan was to empower businesses to run fun team building exercises themselves using easy, fun and practical tools. We some how moved away from that path, but I am very happy to say that we are now back on track."
Funergizers are great for energizing conferences, team days, training programs and staff events. "You first find an activity that you think will work well with your team and your event. You then make the purchase on line and you receive instant access to all the resources and instructions required to run that corporate team building activity."
"By having the instructions and program already written, people don't have to spend weeks and weeks trying to organize, plan and run the activity. They can literally buy the activity and get started straight away."
We have a selection of team building games available and we constantly develop new programs.
Mr Symonds said that based on early feedback the 'How to Videos' have been instrumental in making it easy for people to understand, organize and run.
Programs start at $97 and range up to $397 for our Race Around the World team building activity.
Once you purchase a team building activity you can then use it as many times as you want within your business. "One of the issues of hiring an outside team building company is that if you want to run the session for different departments or locations your costs can double or even triple. With Funergizers once you purchase the activity you can then deliver that program too as many departments or locations within your business. This means that everyone in the business is having the same experience and being sent similar messages."
###