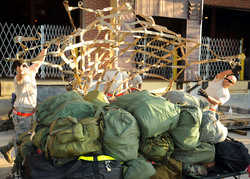 Pope AFB, NC (Vocus) October 13, 2010
The 440th Airlift Wing, Pope Air Force Base, N.C., mobilized and deployed more than 375 personnel and 1.4 short tons of cargo and equipment to Savannah, Ga., for their Operational Readiness Exercise.
The Reservists worked together with their active-duty counterparts, the 3rd Aerial Port Squadron and the 43d Logistics Readiness Squadron, at the Personnel Deployment Facility. The chalks arrived at the PDF then processed through five deployment stations. Airmen received several briefings, checked their personal readiness folders and medical requirements, and then buses transported them to the awaiting aircraft.
"Processing the first chalk started a little rocky," said 2nd Lt. Luke Jechow, PDF officer-in-charge. "After working through some issues, the remaining chalks processed through the system more smoothly."
The PDF bustled with activity, processing multiple chalks simultaneously. As one chalk received the initial briefings and processed in, the previous chalk processed out with the classified intelligence briefing. After the intelligence briefing, the Airmen proceeded to the aircraft.
"It is outstanding to see that they can get this to run so well," said Lt. Col. Abraham Madha, position-the-force OIC for the deployment process. "This is a unique situation for the Reserve unit that was stood up only two years ago after the base realignment and closure initiative."
"A unit usually has four to five years to become fully operational before being tasked with an ORI," said Colonel Madha. "Considering that fact and that the unit is less than 100 percent manned, you could not ask for a better can do attitude."
The 440th Airlift Wing will team up with the 916th Airlift Wing from Seymour Johnson AFB, N.C., to begin the four-day exercise in Savannah.
For more information, visit http://www.440aw.afrc.af.mil.
# # #