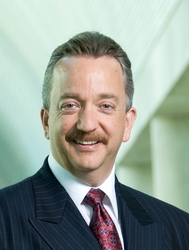 Dan has show immense commitment to the industry and to DMAI throughout his career
Atlanta, GA (Vocus) July 30, 2009
Daniel Fenton, CEO of Team San Jose in California, has been elected Chair of the Board of Directors of Destination Marketing Association International (DMAI). Fenton's term begins at the 95th Annual Convention held in Atlanta, Georgia, 28-30 July 2009.
DMAI is the world's largest association for destination marketing organizations (DMOs). With offices in North America and Europe, DMAI is dedicated to improving the effectiveness of destination marketing organizations worldwide.
As CEO of Team San Jose, Fenton has guided the organization through unprecedented growth, market diversification, and a shifting economic climate. His leadership was essential in the creation of the innovative Team San Jose Model, a unique partnership between the arts, hotel, labor, and business communities that provides renowned seamless "one team" event service for meeting planners that was awarded sweeping responsibility for the San Jose tourism industry. Over the past five years, Team San Jose has become a major economic driver in Silicon Valley, evolving into a US$20 million company with more than 300 employees.
He has been an active DMAI member for 12 years, contributing time to DMO resource development and industry initiatives including the DMAI Executive Committee, DMAI-IAAM Liaison Group, the Futures Study Task Force, MINT Committee, and DMAI/TIA Task Force. He has assisted in the development of an industry whitepaper, in which he challenged DMOs to go beyond logistics management and serve as strategic partners, helping clients achieve their meeting goals.
"Dan has show immense commitment to the industry and to DMAI throughout his career," said Michael D. Gehrisch, president & CEO of DMAI. "We look forward to sharing in his innovative and fresh ideas to invigorate the association in the coming year."
"I'm really looking forward to working with an incredible team of staff and volunteer leaders to help take DMAI to a new level of leadership," said Fenton. "During my tenure I am committed driving the concept that national partnerships between key industries are vital to DMAI members. I will encourage partners such as arts, hotel chains, and organized labor to work with DMAI to elevate the meeting industry's profile and make seamless customer service a nationwide priority for the benefit of meeting planners.
"For example, by having national hotel brands require all their general managers to become more engaged with their local DMOs, the DMO's effectiveness will be vastly increased. This helps out members better positions themselves in their communities, which will strengthen our industry as a whole."
Fenton will also focus this year on positioning DMAI as an industry leader by raising its profile as an advocate for members and rethinking its message. He will guide DMAI's US$4 million campaign to generate real outcomes for members, raise its public affairs profile, increase social responsibility initiatives and increase technology advancements that makes vital information exchange easier with members.
Recognized as one of the top 25 most influential people in the meetings industry by Meeting News, Fenton has earned a national reputation as a tourism innovator through his leadership in creating the Team San Jose model.
###