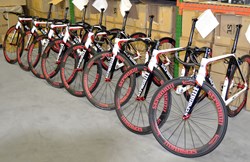 The RP14 is an exceptional frame and we can expect some excellent performances from these great riders.
Pompano Beach, FL (PRWEB) January 16, 2014
Stradalli Cycle, the high-quality carbon bicycle manufacturer, is pleased to announce that two pro cycling teams will be using Stradalli full carbon fiber bicycles for the 2014 racing season.
Team Colavita - Stradalli Cycle, a men's professional cycling team, and Team Colavita/Fine Cooking Pro Cycling, a women's professional team, will be using a variety of Stradalli bicycles including the Stradalli RedPro RP14.
The new Stradalli RP14 is a full carbon road bike that has been designed for speed and performance. The frame, which has a tensile strength of 50 tons per square cm and an exterior weave of 3000 weaves per crossing (3K), was inspired by Stradalli's successful Milano and Trebisacce frames.
Some of the innovations in the RP14 frame include a tapered head tube that improves on the already existing advanced carbon frame technology and a redesigned BB30 bottom bracket. The RP14 has been designed for stiffer, highly responsive handling which makes it suitable for criteriums as well as road races. The frame has been thoroughly race tested and is likely one of the highest quality, yet lowest priced, frames on the market.
"We are proud that these two excellent cycling teams will be riding our high-performance bicycles this year," said Stradalli Cycle CEO Tom Steinbacher. "The RP14 is an exceptional frame and we can expect some excellent performances from these great riders."
Men's Pro Team Colavita-Stradalli Cycle is captained by World Champion 09-10-11 Grant Potter who was the 2009 U.S. Masters National Champion. Towards the end of 2013, Potter became the Florida State champion at state Time Trial Championship while riding for Team Graner Stradalli Cycle. Other members of the team are Cesar Grajales, Yosvany Falcon, Lucas Wardein, Roslan Machete Rivera and Jose Frank.
Team Colavita/Fine Cooking Pro Cycling is headed up by 2013 National Criterium Calendar Champion and 2013 USA CRITS Series Individual Champion Erica Allar. New to the team this year is Lenore Pipes and Jessica Prinner, both of whom previously rode with Allar. The other members of the team include Lindsay Bayer, Laura Brown, Jennifer Purcell,Olivia Dillon, Whitney Schultz, and Mary Zider.
About Stradalli
The Stradalli Cycle is in Pompano Beach, Florida and sells worldwide to athletes who demands the best equipment. With many years of experience in both high tech manufacturing and design as well as a passion for cycling, Stradalli brings passion and innovation to the road racing, triathlon and mountain bike markets.