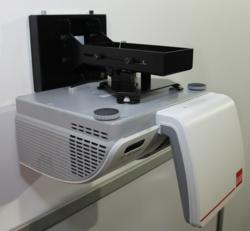 "We're thrilled to enter this market with a unit that offers a remarkable projection image combined with a superior warranty and service bundle, globally. Schools and workplaces WIN." - Sean Brown, President
London, UK (PRWEB) February 06, 2013
Egan TeamBoard Inc., a leading designer and manufacturer of simple and effective interactive teaching, learning, and collaboration solutions since 1994, today announced its entry into the market for digital projectors for the classroom and other presentation environments, launching a 0.19 Throw Ratio Ultra Short Throw model with DLP® Technology from Texas Instruments.
"It is important for the classroom that TeamBoard be able to offer a projection solution that complements the speed and precision capabilities of our newest-generation interactive whiteboard, also launched at BETT", noted Sean Brown, President. "And we understand that educators look beyond the specifications, which is why we've included a 3 Year Warranty on every unit for the education market, globally. And, as a BETT global launch promotion, every unit includes a second lamp".
The TeamBoard UST Projector 0.19 is compatible with the TeamBoard Total Mobile, one of the world's most popular mobile, integrated, power adjustable stands for interactive whiteboards. Thanks to the 0.19 throw ratio, it's possible to move the unit through a standard-sized doorway, without the need for a technician to recalibrate. Additionally, the Ultra Short Throw of 0.19 minimizes shadowing on the image, reduces glare, and perhaps most importantly keeps the projector and its cables up and out of the way.
The TeamBoard UST Projector 0.19 also includes both US and EU power cables, as well as an extended VGA cable.
TeamBoard UST Projector 0.19 is eligible for pre-order and begins shipping early Q2. It is on display at BETT at TeamBoard, C-270.
TeamBoard – Easy Does It® TeamBoard provides a full range of interactive solutions for education, presentation and training environments including TeamBoard interactive whiteboards, Interactive Flat Panel Touchscreens, projectors, peripherals, installation solutions, installation services, professional technical and presentation training and development, and an online sharing and support community. http://www.teamboard.com
Specifications Sheet Here http://goo.gl/beJFV
Product Image Here http://goo.gl/OEpsk
The Teamboard logo can be downloaded here: http://files.eganteamboard.com/imgLib/logos/teamboard_logo.jpg
Further information:
Dubravka Milinkovic, Marketing Manager
Egan TeamBoard Inc.
dmilinkovic(at)teamboard(dot)com
+1-905-851-2826 x255
DLP and the DLP® logo are trademarks of Texas Instruments. TeamBoard® and Easy Does It® are registered trademarks of Egan TeamBoard Inc.
###