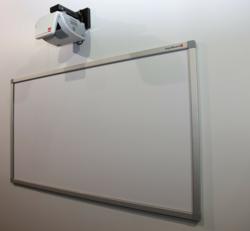 Toronto, ON (PRWEB) February 14, 2013
Egan TeamBoard Inc., a leading designer and manufacturer of simple and effective interactive teaching, learning, and collaboration solutions since 1994, has named CDW Canada as a national reseller of the complete TeamBoard line of interactive technology solutions. The move is important for schools and businesses nationally who seek to enable collaboration with simple, easy interactive tools.
"We're very pleased to bring CDW on nationwide to complement our network of Platinum and Titanium resellers" noted Sean Brown, President. "As a 100% Canadian manufacturer of interactive whiteboards and related solutions for the past 20 years, we're thrilled to enhance our ability to bring these product to classrooms and boardrooms nationwide."
CDW will carry the complete range of TeamBoard solutions, including the TeamBoard T3 interactive whiteboard, the world's first large format touchscreen with MutliForce® functionality.
TeamBoard's launch plans include a number of channel promotion activities with CDW throughout 2013.
TeamBoard products are available now through CDW and the exclusive Canadian distributor of TeamBoard in Canada, Tech Data Canada.
CDW Canada Inc. (http://www.cdw.ca/) is a leading provider of technology solutions for organizations in the public and private sectors. As a trusted advisor for small and medium sized enterprises (SMEs), CDW Canada provides a single destination for organizations to research, inquire or purchase virtually any technology solution that they require. Customers benefit from one-on-one relationships with knowledgeable account managers who are backed by a team of highly certified IT specialists. Through successful partnerships with more than 350 leading technology manufacturers, CDW Canada draws from a comprehensive selection of 160,000 technology products to help customers find the best technology to meet their unique business needs. Headquartered in Etobicoke, Ontario, CDW Canada is a wholly owned subsidiary of Vernon Hills, Illinois-based CDW Corporation, ranked No. 270 on the FORTUNE 500. In 2011, CDW Canada ranked #25 on Best Workplaces in Canada.
TeamBoard provides a full range of interactive solutions for presentation and training environments including TeamBoard interactive whiteboards, projectors, peripherals, installation solutions, touchscreen monitors, installation services, professional technical and presentation training and development, and an online sharing and support community. http://www.teamboard.com In Canada, TeamBoard products and services are available through leading authorized TeamBoard dealers, CDW, and Tech Data Canada. TeamBoard has been certified by UL™ to have established and maintained Quality Management System and Environmental Management System, and is registered to the ISO9001 and ISO14001 standards. TeamBoard interactive whiteboards are GREENGUARD Children & Schools certified. 
The Teamboard logo can be downloaded here: http://files.eganteamboard.com/imgLib/logos/teamboard_logo.jpg
Further information: Dubravka Milinkovic, Marketing Manager
Egan TeamBoard Inc.
+1-905-851-2826 x255
TeamBoard®, Easy Does It®, and MultiForce® are registered trademarks of Egan TeamBoard Inc.
###