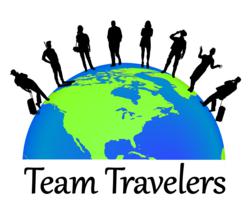 Imagine how many people will dine at Bintliff's now who otherwise would have stayed home
York, Maine (PRWEB) April 25, 2012
Team Travelers has gone beyond the original purpose of bringing like-minded solo travelers together by recently creating a directory of solo-friendly businesses throughout New England. Debbie Archambault, owner, seeks to inspire and recognize businesses that promote offers to solo customers. Since most of us dislike eating out alone, Archambault was thrilled to have Bintliff's Restaurant as the first eager participant. To honor them as #1 there will be a kickoff event 5:30pm - 6:30pm Friday, May 4th at Bintliff's Restaurant in Ogunquit, Maine. This Social for Solo Diners will feature a cash bar, door prizes, and more. Those who wish to purchase dinner following the event have the option to dine with other solos by calling Bintliff's Restaurant to reserve. 207-646-3111
"I am delighted with what Bintliff's owners have eagerly agreed to offer solo diners! Imagine how many people will dine at Bintliff's now who otherwise would have stayed home", Archambault stated with great enthusiasm. During specific hours of operation, solo diners at Bintliff's Restaurant can enjoy each other's company at a special table and receive 10% off food purchases (not combinable with other offers). Full details can be found on their website http://www.bintliffsogunquit.com
Bintliff's co-owners Chef Norm and father, Norm Hebert, commented "Our staff is dedicated to giving the customer a genuine dining experience, taking pride in the food preparation, always using local Maine products as much as possible and, of course, excellent friendly service. We have been family-owned and operated for the past nine years. The Hebert family is excited to be the first business to participate in this Solo-Friendly Business Directory and we look forward to hosting the inaugural event on May 4th."
The 2nd participant and 1st lodging partner, also located in Ogunquit, is Bourne Bed & Breakfast, a seven-room newly-renovated property conveniently located to all that Ogunquit has to offer. This friendly B&B provides areas, both indoors and out, for guests to mingle or relax with a good book.
Other New England businesses interested in being included in the solo-friendly directory should submit the short form found at http://teamtravelers.com/solo-friendly-offers.
About Team Travelers
Team Travelers was founded in 2012 in York, Maine as a new division of Travel Experts of York LLC. The mission of Team Travelers is to create localized networks of travelers who would travel more if they had suitable travel companions. Whether single or married, solo travelers can team-up in small groups of like-minded people from their own area to fulfill their travel wish lists. These teams benefit from the extraordinary level of service, information and resources of Team Travelers and their affiliates Travel Experts Inc. and the Virtuoso network. Participants are encouraged to not only care for each other, but for the land and people they visit during their journeys, and to favor the use of socially responsible suppliers. For more information please visit teamtravelers.com or call 207-351-1181.