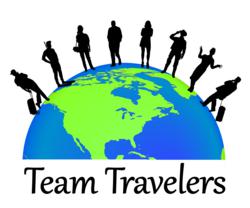 Even when money is no object, no one likes being charged more to have a room to themselves
York, Maine (PRWEB) March 29, 2012
Solo travelers have long been affected by a single-occupancy supplement which can often be 200% of what a person pays for double occupancy. Even when money is no object, no one likes being charged more to have a room to themselves. Team Travelers' growing database of single-occupancy travel offers lists tours and cruises worldwide from companies that offer low, or no, single-occupancy supplements.
Although membership is required to participate in official Team Travelers' small group adventures, these single-occupancy offers do not require membership. "We understand that there are times when group dates won't coincide with a person's availability," says Debbie Archambault, the owner of Team Travelers. "In cases where the solo traveler is comfortable joining other escorted groups or cruises on their own, we not only provide the single-occupancy offers, but will match the solo traveler to the right tour operator or cruise line where there may also be other solo travelers on that departure."
For many tour operators, solo travelers now make up 20-40% of their business. Thus, many of Team Travelers' preferred suppliers are courting this growing market of independent travelers with special rates. Cruise ships of all sizes often arrange for social events for their solo guests to enjoy. Escorted tours vary from active and adventurous to scenic motor coach touring. In most cases, Archambault steers her solo clients to small tour groups and small ships that naturally foster interaction amongst the participants.
Travel suppliers interested in being included in the database, or solo travelers looking to save on the single-occupancy supplement should contact Debbie Archambault at Team Travelers.
Team Travelers was founded in 2012 in York, Maine as a new division of Travel Experts of York LLC. The mission of Team Travelers is to create localized networks of travelers who would travel more if they had suitable travel companions. Whether single or married, solo travelers can team-up in small groups of like-minded people from their own area to fulfill their travel wish lists. These teams benefit from the extraordinary level of service, information and resources of Team Travelers and their affiliates Travel Experts Inc. and the Virtuoso network. Participants are encouraged to not only care for each other, but for the land and people they visit during their journeys, and to favor the use of socially responsible suppliers.