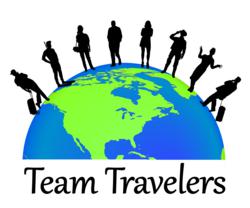 Activities besides travel may be uncomfortable for those without a companion such as dining out or going to the theater
York, Maine (PRWEB) April 03, 2012
Solo travelers and businesses in New England can now benefit from Team Travelers' new "solo-friendly businesses directory". This directory is very unique to the solo travel industry. The Team Travelers solo-friendly business directory will not only provide a one-stop resource for solo travelers looking to save on dining and activities, but also offers local businesses a unique marketing opportunity.
"Activities besides travel may be uncomfortable for those without a companion such as dining out or going to the theater", says Debbie Archambault, owner of Team Travelers. "Our solo-friendly business directory will not only assist the solo traveler to save money and have more fun, but will also help local businesses target this growing market creating a win-win situation for all."
The new directory of solo-friendly businesses and activities will be on the Team Travelers' website (http://www.teamtravelers.com) in order to create a one-stop database of fun things one can do alone in the company of other solos. Activities and offers listed will include dining, theatre, and lodging.
Participating businesses will be listed by category, state, and town with their name and website. Each business can decide what hours, days of the week, etc. that they wish to attract solo customers. In return, those businesses must agree to post their solo customer policies and/or offers prominently on their websites with a link to the solo-friendly directory. Team Travelers will create a small flyer for businesses to post in their entryway showing that they are solo-friendly.
New England businesses interested in being included in the solo-friendly directory should submit the short form found at http://teamtravelers.com/solo-friendly-offers.
About Team Travelers
Team Travelers was founded in 2012 in York, Maine as a new division of Travel Experts of York LLC. The mission of Team Travelers is to create localized networks of travelers who would travel more if they had suitable travel companions. Whether single or married, solo travelers can team-up in small groups of like-minded people from their own area to fulfill their travel wish lists. These teams benefit from the extraordinary level of service, information and resources of Team Travelers and their affiliates Travel Experts Inc. and the Virtuoso network. Participants are encouraged to not only care for each other, but for the land and people they visit during their journeys, and to favor the use of socially responsible suppliers. For more information please visit teamtravelers.com or call 207-351-1181.