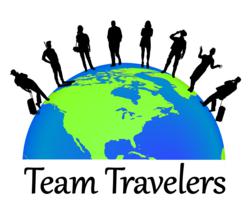 It's a chance for women to focus on themselves, not on their family or jobs
York, ME (PRWEB) May 17, 2012
Team Travelers, the new program for solo travelers in New England, announces their first women-only vacation. Although women of all ages are finding independence and gaining a stronger sense of self through travel , many prefer not to travel alone. Cabin Bluff is the perfect destination to engage in group activities with other Team Travelers' members or to enjoy some activities independently. Regardless of their fitness level, women can learn a new skill or improve an existing one with Cabin Bluff's trained guides in a safe, relaxed, non-competitive environment.
Women can feel very comfortable coming on this trip all by themselves even if they have never done so in the past. All Team Traveler participants will travel to the resort together and hopefully find strength and humor in sharing adventures and fireside chats with other like-minded women. Whether booking solo, planning a girlfriend getaway or a mother-daughter vacation, this trip offers a unique combination of activities, relaxation, great food and spirits, unhurried days, and genuinely friendly staff.
"It is a chance for women to focus on themselves, not on their family or jobs" claims Team Travelers' owner, Debbie Archambault, who enjoyed both the serenity and adventure of Cabin Bluff last month with a friend. A small property for just forty fortunate guests, all cabins are beautifully set amongst live oak trees draped with Spanish Moss and offer views of the Intercoastal Waterway across to famed Cumberland Island.
Team Travelers and Cabin Bluff have teamed up to make planning easy and stress-free by arranging everything in advance but with the daily freedom to do as you please.
About Team Travelers
Team Travelers was founded in 2012 in York, Maine as a new division of Travel Experts of York LLC. The mission of Team Travelers is to create localized networks of travelers who would travel more if they had suitable travel companions. Whether single or married, solo travelers can team-up in small groups of like-minded people from their own area to fulfill their travel wish lists. These teams benefit from the extraordinary level of service, information and resources of Team Travelers and their affiliates Travel Experts Inc. and the Virtuoso network. Participants are encouraged to not only care for each other, but for the land and people they visit during their journeys, and to favor the use of socially responsible suppliers. For more information, contact Team Travelers please visit http://www.teamtravelers.com or call 207-351-1181.