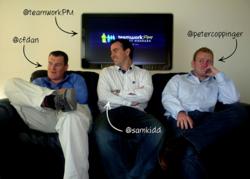 We want to provide the best possible experience for our customers. We are aware that our service needs to be totally reliable as a huge number of customers run their entire business through TeamworkPM
Cork, Ireland (PRWEB UK) 6 September 2012
TeamworkPM is an online project management app based out of Cork, Ireland and it has been operating for nearly five years. Top companies from around the world, including Universal Studios, EA and Forbes are using the application.
TeamworkPM now has more users than ever. In fact, last month increased demand from users put a strain on the hardware, which resulted in the company making some significant changes within its infrastructure.
Sam Kidd, new business development manager of TeamworkPM said: "We want to provide the best possible experience for our customers. We are aware that our service needs to be totally reliable as a huge number of customers run their entire business through TeamworkPM. Initially, we managed our own servers, but as the numbers increased it made more sense to look into other options. After a lot of research, we made the decision to change and have spent the last three weeks moving the entire TeamworkPM infrastructure to Amazon EC2."
Kidd said that having moved to Amazon EC2, TeamworkPM is far more robust, with better load balancing and automatic failover. For example, if in the future a server failed, other servers automatically take over, ensuring that users on the TeamworkPM application are not interfered with.
TeamworkPM stated that the platform has also become more scalable. Co-founder, Peter Coppinger, said: "Amazon gives us far more control over the hardware in use. This means the scaling issues we were facing last month are no longer an issue."
Amazon's platform gives the company the advantage of being able to quickly increase the RAM and processing power of servers at the touch of a button. The upgrade makes it possible to quickly bring new servers online to cope with any increase in demand.
The other major advantage of Amazon is its reliability when it comes to user data. Hardware failures are less frequent in EC2 but if and when they occur everything is well backed up and recovery is easier and faster.
TeamworkPM has some great updates planned in the coming months and the new infrastructure will allow for more exciting features in the future.
You can read more about this story on the company blog here.