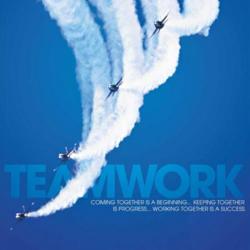 Celebrate goals that are met publicly and prominently. Involve your employees in a recognition program that will motivate them as a team and help them learn to work together.
Boca Raton, FL (PRWEB) March 15, 2012
Successories.com, the leader in employee motivation and employee recognition, has released their top ten tips for improving teamwork in the workplace.
"If you're really serious about increasing your team's efficiency and performance, then these ten tips are a 'must-do' for improving teamwork in the workplace and increasing employee motivation," says Warren Struhl, Chief Inspiration Officer of Successories.
The following tips and activities will not only bring your team together, but also keep them together during the year. Plus they will be focused on company goals at every step during the year, prevent the many performance problems a lack of teamwork cause, and increase employee motivation.
Struhl emphasizes these ten for improving teamwork in the workplace:
1. Conduct an annual meeting that connects the team with the company's vision and mission. Provide a context for all of the company's goals and allows workers to understand where the goals come from.
2. Create a year-long plan that provides structure and clarity. Help employees understand what goals need to be met during the year and how they can be met.
3. Break down the year-long plan into shorter-term goals. Help your team understand the prioritization of goals and increase focus on short-term goals, and provides yardsticks for accountability.
4. Conduct team meetings at the end of those terms. A perfect time to re-assess what goals have been met, what priorities need to change, and to see if implemented strategies need adjustment.
5. Conduct weekly team meetings. These (short!) meetings can be used by managers to rally the troops, publicly recognize milestones recently met, and keep everyone informed.
6. Develop a buddy system within each department. Assign each person a partner they can turn to when they need a "second opinion," technical assistance, or backup on a particularly busy day. This team-within-a-team approach helps everyone achieve their individual goals while creating a "we're all in this together" environment.
7. Take time to build one-on-one relationships. While team meetings are important, it's just as important to have a handle on each individual's challenges and concerns at work. A quick check-in can reveal pitfalls that otherwise might not be apparent, especially interpersonal relationships at work that affect teamwork and employee motivation.
8. Praise whenever possible. Make everyone feel important. Learn to pay effective compliments and compliment everyone with something they do well, even if just subtly. This not only increases employee motivation, but also leads to a better sense of being part of the team.
9. Build skills and knowledge. Schedule training times for employees to provide greater efficiency and ultimately happier employees. Untrained employees can be divisive and counter to improving teamwork in the workplace.
10. Celebrate goals that are met publicly and prominently. Involve your employees in a recognition program that will motivate them as a team and help them learn to work together.
About Successories
Successories offers exclusive, high-quality products and programs for your motivational, recognition and promotional needs. Having motivated more than 1 million customers, Successories is the authority on motivation and presents in-depth information on how to motivate yourself and your employees on a daily basis. Successories allows you to personalize any motivational or recognition product – or even design one yourself – with its innovative, unique "Create Your Own" online tool. Successories also features iQuote, the largest curated collection of motivational quotes, diligently maintained by in-house Quoteologists. For more, please visit http://www.Successories.com.