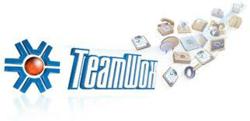 The advanced team collaboration and easy access to IP telephony make Teamwox an interesting choice for small businesses
Barcelona, Spain (PRWEB) September 04, 2012
TeamWox is a SaaS collaboration application suite made of a large features set including HRM, task management, document management, CRM, help desk, and VoIP telephony. It is available in 30 languages, and is used by businesses in order to improve teamwork efficiency and speed up management decision-making.
GetApp has identified the breadth of functionality of the solution and its strong focus on data security and privacy as key differentiators. Additionally, the solution can help small businesses to quickly and easily benefit from office telephony and online customer support at a very reasonable cost.
TeamWox achieved the following ratings:
Overall: 9/10
Ease of use 3.5/5
Features 5/5
Value 4/5
Ease of deployment 4/5
"The advanced team collaboration and easy access to IP telephony make Teamwox an interesting choice for small businesses looking at an all in one solution with guaranteed data security and confidentiality" said the GetApp reviewer.
To read the full review on GetApp, visit:
http://www.getapp.com/blog/teamwox-review-collaboration/
You can visit GetApp to test drive and deploy TeamWox for free at: http://www.getapp.com/teamwox-groupware-application
About TeamWox
TeamWox is a company management system intended for small and medium business. This is a web application including Team and Task management, Document Workflow, CRM, HelpDesk, IP PBX and Social tools. More than 4000 companies around the world use it in their daily activities and achieve positive results. The system allows to control a company's business processes by accumulating all the corporate information in a single location. TeamWox is easy to install and operate, runs at high speed and is promoted at a reasonable price - such are the main advantages of the system.
TeamWox description at http://www.teamwox.com/en/groupware
About GetApp
GetApp is the largest independent online marketplace that helps small to mid-sized businesses and startups discover, evaluate and manage the perfect cloud business apps for their needs. Its mission is to support millions of users in their "best app" research with comprehensive directories, interactive search tools, side-by-side comparison tables, user reviews and app evaluation resources.
In addition, GetApp serves as a global online marketing channel for thousands of cloud business application developers.
Headquartered in Barcelona, Spain, GetApp operates primarily in North America and the U.K. It is privately owned and backed by Nauta Capital