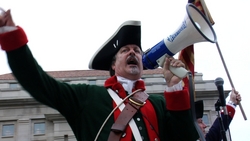 There is a lot more to the Tea Party movement than what you may have heard. Our film explores why ordinary people have been moved to action from a 'behind-the-scenes' point of view
Atlanta, GA (PRWEB) October 14, 2009
The tea party movement started as an internet Twitter feed in late 2008. A few dozen tea parties were held in February. Over 800 nationwide Tax Day Tea Parties were hosted around the country on April 15th. Crowd size at the recent 912 March on Washington has been heavily debated, ranging from 50,000 to over 1 million participants in unofficial estimates.
The characters are a composite of many involved in the movement; Jenny Beth, a wife and mother who lost her home and job during the housing crisis; William, a pastor and eccentric Revolutionary War re-enactor; Nate, a former Obama supporter concerned with the government spending spree; Dave, a fashion model and med school student; Dr Fred, a urologist standing against what he sees as a government takeover of healthcare; and Jack, a father, baseball coach and sales agent living out the legacy of his brother, a military veteran.
Executive Producer Luke Livingston (Ground Floor Video) reflects on the film project, "There is a lot more to the Tea Party movement than what you may have heard. Our film explores why ordinary people have been moved to action from a 'behind-the-scenes' point of view". Project writer Joel Aaron Foster (Convergence Entertainment) adds, "This is a political thriller and an inspiring American story that is at the heart of the times we are living in as a nation. It will challenge you as few stories can."
Grassroots support for the tea party movement has involved Tea Party Patriots, Glenn Beck's The 912 Project, Tea Party Express, FreedomWorks, Americans for Prosperity, Campaign for Liberty, Grassfire.org, ResistNet, Docs4PatientCare and many other organizations and individuals. The policies protested have included government controlled healthcare, the Troubled Asset Relief Program, stimulus spending, cap and trade, bank bailouts, concerns over the constitutionality of czar appointments and cash for clunkers.
Tea Party: The Documentary Film is being released in conjunction with local tea parties and dozens of "Tea Time Sneak Peaks" hosted by tea party organizers around the country in early November before the November 27th DVD release date. The screenings will take place in homes, theatres and other venues. Organizers are being urged to use the film to facilitate a conversation about the principles of the tea party movement and what comes next. The DVD distribution will be at TeaPartyMovie.com, on ITunes through the new Gigaplex application and at individual screenings.
###