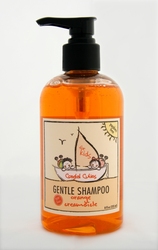 We are thrilled to have Coastal Cuties tear free toddler shampoo be the recipient of an iParenting award
Long Beach, CA (PRWEB) September 2, 2009
Coastal Cuties Gear, Inc., a producer of natural, organic, and paraben-free baby care products announced that it's Natural & Organic Orange Creamsicle Tear Free Toddler Shampoo was a recipient of an iParenting Media Award in the 2009 category. Made with organic and natural ingredients, no parabens or phthalates, Coastal Cuties Tear-Free Orange Creamsicle Toddler Shampoo is a gentle daily shampoo that conditions and moisturizes while protecting hair's natural moisture content.
The iParenting Media Awards is one of the country's premiere product evaluation and testing services. Coastal Cuties Tear-free Shampoo was reviewed by iParenting's nationwide reviewers comprising of a diverse group of parents, experts, licensed childcare centers.
"We are thrilled to have Coastal Cuties tear free toddler shampoo be the recipient of an iParenting award," states Coastal Cuties founder Andrea Salisbury. "As parents concerned about both the environment and the harmful chemicals found in most other baby and toddler personal care we created the Coastal Cuties Website and produced a complete line of natural and organic personal care products for children. To have an esteemed group of peers and professionals at iParenting recognize our achievements with this award is an honor."
About Coastal Cuties Gear
Southern California based Coastal Cuties began as a support group for new moms and a means to support local charities. Coastal Cuties Gear is dedicated to providing advice, tips, and well tested, mother approved eco-friendly baby gear including it's own line of natural organic high-quality kidsafe personal care products Coastal Cutie's natural and organic baby and toddler products can be found at http://www.CoastalCutiesGear.com or by calling (800) 516-3792.
About iParenting.com
iParenting Awards is part of the Disney Online Mom and Family Portfolio, a leading group of sites that provide inspiration and ideas for parents on a variety of topics important to today`s families. Sites include Disney Family.com, Kaboose.com, FamilyFun.com, BabyZone.com, ParentZone.com, AmazingMoms.com and iParenting.com.
iParenting Awards is the leading family products evaluation program that is committed to helping parents make informed decisions as they choose products for their family. The iParenting Awards' method for testing and evaluating products requires review by leading experts, parents and childcare providers, and each product is evaluated on numerous attributes such as quality, durability, age-appropriateness and play value, among many others. The iParenting Awards product testing and evaluation practices ensure that the highest quality
products offering the best value for families are recognized in the marketplace.
###