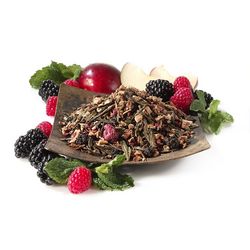 Atlanta, GA (Vocus) November 3, 2010
Join us on an adventure through the culture, flavor and inspiration of tea. Teavana climbed the steep mountain tops of China traveling to the birthplace of tea, waded through hustle and bustle of Thailand's busy tea and spice district, and wandered through the rolling green of the shade grown tea fields in Japan. Teavana, known for procuring the finest loose leaf tea from around the world, is proud to present new tea selections for the 2010-2011 season. This launch includes a combination of flavored white and green teas, single estate oolong and black and a collection of tasty herbal teas.
Teavana's New Harvest further expands the wonderful flavors and health benefits that make Teavana the most recognized and respected brand in the tea industry. The New Harvest includes teas that are destined to become essentials in your daily tea cup such as Maharaja Chai Oolong (a bold & spicy chai oolong blend), Shanghai Orchid (an exotic floral scented white tea), Blackberry Mojito (a bursting berry green tea with a cool minty finish), and JavaVana Maté (a rich mocha coffee-like maté and black tea blend).
This collection begins with 2 new white teas. Shanghai Orchid offers the enchanting scent of fresh orchids accompanied with melon and lemon undertones on a white tea base. Scarlet Cloud is delightfully rich double 'Superfoods' berry blend accompanying a white tea base with a minty finish.
Tea lovers continue to prize green teas and Teavana doesn't disappoint by adding 6 new green teas. 3 flavored green teas include the succulent Blackberry Mojito, a blend of blackberries, spearmint, plum and raspberry. The ever-popular Gyokuro Genmaicha which is a blending of fine shade grown Gyokuro Japanese tea with roasted and popped rice. Jinjaa Citrus Twist is a unique take on the traditional lemon ginger pairing by adding the flavor of Yuzu to piquant ginger.
The 3 plain green teas are centuries old Emperor's Clouds & Mist made of the tea bud and first 2 leaves, handpicked where the tea trees are always shrouded in clouds and mist. Huang Shan Mao Feng Reserve which is named after the famous Yellow Mountain peak in China where these tea buds have been plucked at 4500 foot elevation, hand twisted and dried the same day as plucking. Yunnan Emerald Buds is a slightly smoky and sweet green tea grown in the famed Yunnan Province, where tea was born.
The oolong category expands with 1 single estate and 4 flavored oolongs. Succulent pears blend with lemon balm, sweet papaya and green oolong tea in Anjou Pear-adise Oolong. Rich exotic spices evoke the ancient royal courts along the spice route in India with Maharaja Chai Oolong. Prosperous Peach Oolong blends a handcrafted green oolong tea with sweet peaches, papaya and strawberries. Uncommon Yang Mei berries burst forth in the extraordinary Yumberry Wulong accompanying plump berries on a curled oolong tea base. Teavana was fortunate enough to acquire the rare Phoenix Mountain Dan Cong Oolong tea from the remote reaches of China. Phoenix Mountain Dan Cong Oolong is grown on a single trunked tea trees over 100 years old.
Flavorful black teas are always in style whether they are made as a piping hot cup in the winter or delicious iced tea in the summer. Brisk Assam Breeze enhances a classic black tea base with tropical fruit bits. Cha Yen Thai Tea is Teavana's interpretation of the beloved Thai Tea, renowned around the world, blending a hearty Assam black tea with rooibos, star anise, almonds and traditional Thai spices. Taj Masala Chai is a handcrafted tea including a rich blend of cinnamon, cardamom, ginger and masala spices intermingled with an Assam black tea.
Traditional single estate black teas are also abundant in this year's tea launch with such classics as Capital of Heaven Keemun which is one of the Top 10 in China and a famous competition grade tea. Nine Dragon Golden Needle composed of long slender twisted black and gold leaves that brew a smooth honey tasting cup sure to become a favorite. From the high mountain peaks of Nepal comes Himalayan Splendor comprised of hand selected downy silver tipped leaves which brew a complex fruity and floral cup of tea similar to a Darjeeling tea.
Herbals encompass a wide variety of herbs, fruits and flowers which do not include the Camellia Sinensis leaf (tea leaf), and traditionally are caffeine free, with the exception of Maté.
From Argentina, we are excited to introduce JavaVana Maté which is a blend of energizing roasted Maté with mocha cappuccino notes, for those who need to "wean off the bean".
Our caffeine free selections expand with Cocoa Praline Tart which is a rooibos and Honeybush tea blend comprised of sweet figs, macadamia nuts, pears and chocolate, the perfect after-dinner companion. Lemon Lime Kampai combines mouthwatering sweet lemongrass, tart apples and lime with a kiss of spearmint on a green rooibos tea base. Sacred Tulsi herb is the savory flavor in an Ayurvedic rooibos tea blend called Tulsi Dosha Chai, which is composed of cinnamon, ginger, pepper, and is reputed to support general wellness.
Juicy golden pineapple is the base for the succulent herbal tea called Pineapple Kona Pop! which blends the tastes of Hawaii with fragrant flower blossoms. Ancient Chinese alternative medicine is the inspiration for a savory blend called Dokudami Umami blending 8 holistic herbs including Job's tears seeds, soybeans, dokudami, persimmon leaf and a touch of oolong tea.
In conjunction with the tea launch, Teavana is adding new gift collections, teapots, and other accessories just in time for the holiday season. Discover new collections designed to excite everyone from the tea aficionado to the tea novice. Visit any Teavana store or http://www.teavana.com to experience all the new teas and tea accessories.
Atlanta-based Teavana first opened in 1997 with the name meaning 'Heaven of Tea'. The specialty stores are part retail shop and part tea emporium with over 100 different selections of loose-leaf tea from all over the world. The company donates 1 percent of profits from tea to CARE® http://www.care.org which goes to improve the lives of those who live in tea-producing areas of the world through education, access to safe water and greater economic opportunities. Teavana currently has over 150 store locations in North America.
Teavana, Heaven of Tea, and Teavana's New Harvest are registered trademarks of the Teavana Corporation.
Shanghai Orchid, Scarlet Cloud, Huang Shan Mao Feng Reserve, Yunnan Emerald Buds, Emperor's Clouds & Mist, Blackberry Mojito, Gyokuro Genmaicha, Jinjaa Citrus Twist, Phoenix Mountain Dan Cong, Maharaja Chai Oolong, Yumberry Wulong, Prosperous Peach Oolong, Anjou Pear-adise Oolong, Capital of Heaven Keemun, Nine Dragon Golden Needle, Taj Masala Chai, Cha Yen Thai Tea, Assam Breeze, JavaVana Maté, Cocoa Praline Tart, Lemon Lime Kampai, Tulsi Dosha Chai, Pineapple Kona Pop! & Dokudami Umami are also registered trademarks of the Teavana Corporation.
###