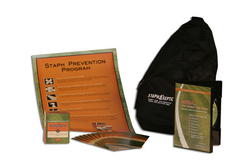 We created the kit about eight months ago as a way to help kids and schools learn about MRSA
Albany, OR (Vocus) September 27, 2007
Call it the little MRSA prevention kit that could. An Oregon company is responding quickly to a dramatic spike in requests for the company's specialized MRSA education kit. The kit was developed as a public service to educate students and athletes about preventing a MRSA outbreak; but the kit has kept a low profile until recently. MRSA is an acronym for a new super bug called methicillin resistant staphylococcus aureus that is hitting schools, especially athletic programs, all across the nation.
"We created the kit about eight months ago as a way to help kids and schools learn about MRSA," said Steve Smith, president of Tec Labs , the company behind the kit. "But when we started letting schools know about it there was very little interest. No one wanted to learn about MRSA. So, we had this really nifty educational tool that was all dressed up with no where to go." Like Smith, Lisa Leverich, the company's marketing coordinator, thought the kit would be a hit right off the bat.
"We knew MRSA was a problem," said Leverich. "What we didn't know is that MRSA was nearly unheard of in the general public."
"We'd been entrenched in the world of MRSA for about 5 years because we'd been developing StaphAseptic ," Smith explained, referring to his company's over-the-counter wound care ointment for preventing MRSA. "But when we started getting the word out we realized that very few people outside of the medical community knew what MRSA was."
So, what created the sudden interest in the kits? "That would be this year's high school football season," said Leverich definitively. "MRSA outbreaks are everywhere this year. I think eight months ago we might have been just a little ahead of the curve."
The company has now sent out thousands of the kits, with Ohio, Minnesota, Illinois and Pennsylvania leading the way with the most kit requests. "Our phone has basically been ringing off the hook for the last month," said Smith. "But you won't hear me complaining."
The MRSA prevention kit contains a DVD called MRSA: The Ticking Time Bomb, a poster, bi-lingual handouts, a printable quiz, and sample packets of the company's product. Schools can get the kit at no charge by calling Tec Labs at 1-800-482-4464 and pressing "0". The video can be viewed here.
Contact:
Gary Burris
Tec Laboratories, Inc.
541-918-4124
gary @ teclabsinc.com
http://www.teclabsinc.com
###