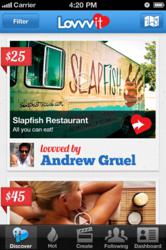 Showing TechCrunch fans the LovvvIt platform has been something we have been very excited about.
Beverly Hills, CA (PRWEB) May 19, 2012
Lovvvit is the place where we are able to show the world videos about our favorite places to eat, drink, play and love. These videos created will have the opportunity to be chosen by the merchant to be featured on the Lovvvit website or application attached with a deal. Lovvvit will also be the platform that will allow customers and businesses to communicate and reward each other in a unique way. There is much to learn about Lovvvit and the experience for both the merchant and user.
"Tell the World What You Love" sweepstakes allows new users to enter their favorite local business on Lovvvit.com and win a chance to receive a $250 gift certificate. The contest is simple and allows Lovvvit to begin engaging users to learn about local businesses they love.
About TechCrunch Disrupt:
TechCrunch Disrupt NYC 2012 (http://techcrunch.com/events/disrupt-ny-2012/) is TechCrunch's third annual conference in New York City. The format combines top thought-leader discussions with new product and company launches. Morning executive discussions debate timely disruptions in media, advertising and technology while the afternoons are reserved for the Start-up Battlefield where 30 new companies will launch for the first time on stage, selected to present from more than 1000 applications received from around the world. The winning company will receive a $50,000 grand prize and the Disrupt Cup at the conclusion of the conference. The conference is May 21-23, 2012, at Pier 94 located at 755 12th Avenue (at 55th Street & 12th Ave.) in Midtown New York.