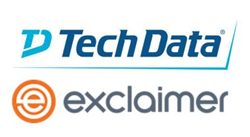 We are eager to actively begin selling Exclaimer's cloud-based service to all on the Tech Data Cloud Solutions Store.
Farnborough, United Kingdom (PRWEB) November 23, 2016
Exclaimer Limited, the global leader in email signature management solutions, today announces a new channel partnership with leading Canadian technology distributor, Tech Data Canada Corporation. This new partnership will bring the award-winning cloud-based service, Exclaimer Cloud - Signatures for Office 365, to the Tech Data Cloud Solutions Store, the one-stop shop for solution providers and managed service providers (MSPs) seeking to administer and control the entire cloud services delivery process in an app store-like environment.
Irene Buchan, Director of Marketing and Tech Data Cloud at Tech Data Canada, explains, "We are delighted to add Exclaimer Cloud - Signatures for Office 365 to the Tech Data Cloud Solutions Store as it furthers our commitment to provide the right technology services to our technology reseller partners and solution providers across Canada. One of our core strengths is combining the strength of the Tech Data global brand with a primary focus on the Canadian IT market. We are eager to actively begin selling Exclaimer's cloud-based service to all on the Tech Data Cloud Solutions Store."
Buchan adds, "More and more companies across the globe understand that corporate email signatures represent their corporate identity as much any other branded communication. Using the Exclaimer Cloud service, any organization can design and control their Office 365 signatures from one location and for all users, while guaranteeing they are applied to all emails sent from any device. The fact that the service has achieved the ISO 27001:2013 Certification makes it a leading email signature management offering on the market."
Andrew Millington, Chief Executive Officer at Exclaimer, comments, "We are pleased to be working with Tech Data Canada to increase our operations within the Canadian IT market and provide our cloud-based Office 365 service to the Tech Data Cloud Solutions Store. This partnership will enable us to benefit from Tech Data Canada's knowledge in distributing outstanding technology solutions, while enabling them to provide their solution providers and MSPs with a cutting-edge solution that is seeing rapid adoption worldwide."
About Tech Data
Tech Data Corporation is one of the world's largest wholesale distributors of technology products, services and solutions. Its advanced logistics capabilities and value added services enable 105,000 resellers to efficiently and cost effectively support the diverse technology needs of end users in more than 100 countries. Tech Data generated $26.4 billion in net sales for the fiscal year ended January 31, 2016. It is ranked No. 108 on the Fortune 500® and one of Fortune's "World's Most Admired Companies." To learn more, visit http://www.techdata.com, or follow us on Facebook and Twitter.
About Exclaimer
Founded in 2001, Exclaimer is the recognized global market leader in on-premises and cloud-based email signature software and solutions for Office 365, Microsoft Exchange and Outlook. It has over 50 million users worldwide with some companies holding licenses for over 100,000 users. Its diverse customer base includes renowned international organizations such as Sony, Mattel, 10 Downing Street, NBC, the Government of Canada, the BBC and many more organizations of all sectors and sizes.
Exclaimer has been the recipient of multiple awards within the IT sphere, has been awarded the Queen's Award for Enterprise in International Trade and has successfully achieved the ISO 27001:2013 Certification for its cloud-based Office 365 signature management service.