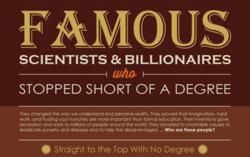 A quick walk down the history lane reveals that many great inventors, scientists, and tech giants made it big without a fancy degree
(PRWEB) April 25, 2013
Tech-Faq.com announced today the publication of a new infographic (http://www.tech-faq.com/people-who-changed-the-world-without-formal-education.html) on famous inventors, scientists, and tech people who succeeded without formal education.
The infographic was designed by the marketing team of MemeBridge to show young people that innovation, creativity, and entrepreneurship are more important than a costly college or university degree.
"A quick walk down the history lane reveals that many great inventors, scientists, and tech giants made it big without a fancy degree. This is something that all young people should be aware of, considering the ever-escalating costs of post-secondary education," said Will Spencer, CEO of MemeBridge.
Policymakers, high school guidance counselors, and educators overemphasize the importance of having an academic degree. They argue that educational attainment helps young people to compete and succeed in the global economy. A university or college degree makes people more productive workers and well-rounded citizens. Students acquire science, math, and language skills and learn how to apply theories, concepts, and ideas. At the same time, there is a range of other skills, including critical thinking, curiosity, problem-solving, emotional intelligence, and technological skills. Formal education represents a structured, organized, and systemic model that often fails to stimulate young people to develop their talents and non-cognitive skills. Talent, curiosity, and entrepreneurship are the key to success and a high social status.
Many young people take out student loans because of the ever increasing cost of college education. They stress about grades, performance, classroom attendance, and deadlines. And some graduates have impressive resumes but lack skills to solve real-world problems. Freedom of creativity, openness of mind, self-reliance, and enthusiasm matter more than academic achievement. Successful people are goal-oriented, focused, motivated, and have a dream. They work hard to achieve it and use their energy, skills, talents, and expertise to this end.
Successful tech people such as Bill Gates and Michael Dell are college dropouts whose skills and abilities won out over a missing degree. The infographic shows young people that entrepreneurship, independent thinking, and confidence are more important than an academic degree.
About Tech-FAQ.com: Tech-FAQ.com developed by parent company, MemeBridge is a comprehensive resource of information about technology.
About MemeBridge: MemeBridge is a company with a mission: Spread Good Ideas. A meme is a unit of thought and the job of MemeBridge is to build bridges which help good memes overcome obstacles and achieve widespread adoption. MemeBridge has extensive experience creating and managing web publications, including Tech-FAQ.com and ExpatIntelligence.com. MemeBridge web sites serve millions of visitors per month and provide information and guidance to people from all over the globe.