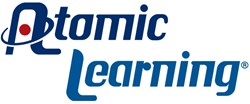 Little Falls, MN (PRWEB) October 08, 2013
In recognition of National Disability Awareness Month, Atomic Learning is offering its accessibility: it is an important workshop at no cost for a limited time. The workshop is part of the Atomic Assist solution, providing over 5,000 online video tutorials on common assistive technology software and hardware to help educators support all learners.
Every educator impacts students, but are they able to effectively reach all their students? Anyone working with students with disabilities who fails to provide accessible instruction and materials is inadvertently building barriers to learning. To help bridge the gap, Atomic Learning offers an accessible instruction-focused collection of training.
The training was developed with these goals for educators:

Understand the requirements to provide accessible materials and assistive technology under IDEA
Understand how to meet those requirements as it relates to classroom materials
Practice creating documents and forms that are accessible to students using assistive technology
Build awareness of the barriers assistive technology can help students overcome
To gain access to the free workshop, Atomic Learning is encouraging all educators to take a pledge to create accessible instruction. Those who submit the pledge will receive access to the free training in a series of follow up emails. The pledge can be found here: http://www.atomiclearning.com/k12/pledge.
Contact:
Kathy Sell, Director of Marketing
866.259.6890, ext. 164
ksell(at)atomiclearning(dot)com
About Atomic Learning
Through a partnership with Atomic Learning, schools can provide teachers, staff, students, and parents with Atomic Learning's professional development resources that focus on tech integration. The Atomic Learning suite of products is designed to provide a comprehensive framework to bring technology and curriculum together, through targeted solutions for specific initiatives, such as mobile or Common Core. Atomic Learning features a guided, step-by-step path for tech integration through online teacher workshops, classroom-ready projects, assessments, and just-in-time training and support on programs relevant to district and individual technology needs. To learn more about Atomic Learning's solution, visit http://www.atomiclearning.com/.