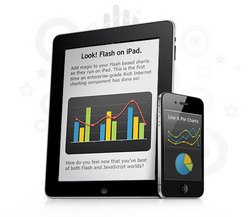 When the iPad came out and Apple made it clear that they were not going to support Flash, we had to find a way to cover our 17,000 customers and 330,000 developers on the iPads and iPhones.
Kolkata, India (PRWEB) October 7, 2010
FusionCharts, the industry leader in Flash charting, is now ready for iPads and iPhones too. The latest release of FusionCharts, v3.2, enables it to work seamlessly on PCs, Macs, iPads, iPhones and a majority of other mobile devices, making it the first enterprise-grade rich Internet charting component to do so.
"When the iPad came out and Apple made it clear that they were not going to support Flash, we had to find a way to cover our huge customer base of 17,000 customers and 330,000 developers on the iPads and iPhones," said Pallav Nadhani, co-founder and CEO of FusionCharts. In the process, FusionCharts decided to pick up an existing JavaScript charting solution and bundle it with their hugely popular Flash charts. "In 2002, we pioneered the very concept of animated and interactive charts in Flash. Today, we are again at the fore-front of data visualization paradigm on the web, where multiple RIA technologies are used together, without the end developers having to write an additional line of code", says Nadhani.
FusionCharts has also added a number of industry-firsts to its latest version. It introduces the concept of LinkedCharts, a method to create unlimited levels of drill-down charts without having to write additional code. It also brings in a first-of-its-type zoom chart that allows both zooming into data for analysis, and pinning non-adjacent data sets by overlaying on top of one another for comparison.
The company has also been developing specialized solutions, the most notable ones being for PowerPoint, called oomfo, and Microsoft SharePoint. "We will continue to innovate with our existing products and make specialized solutions for other technologies as well, thereby becoming the one-stop shop for everything charting," concludes Nadhani.
About FusionCharts
FusionCharts v3 helps you create animated & interactive charts for web & enterprise applications. It is the industry's leading enterprise-grade charting component that functions seamlessly on PCs, Macs, iPads, iPhones and a majority of other mobile devices. FusionCharts is used by 17,000 customers and 330,000 users in over 110 countries, including a majority of Fortune 500 companies, to add "wow" to their applications.
For more details, contact:
Sanket Nadhani
Head, Marketing & PR
pr(at)fusioncharts(dot)com
+91 97481 89965
###