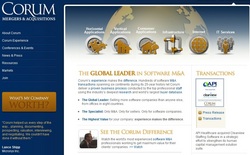 Despite sovereign debt concerns, stock market gyrations, and Euro devaluation, M&A is roaring along. Don't miss this opportunity to hear from one of the true giants who shape our industry.
Bothell, WA (Vocus) May 28, 2010
Corum Group, sponsor of the Tech Mergers and Acquisitions monthly market update and valuation webcast, announced today that its next event will feature guest speaker C. Matthew Olton, V.P. of Corporate Development at EMC, a company often deemed the "Quiet Giant" of tech acquisitions. A limited number of free registrations for the Thursday, June 10, 1:00 PM EDT (New York time) webcast event are now available on a first-come basis from MergersAndAcquisitions.webex.com
"Every year EMC is on the leader board of acquisitions with Google, Microsoft, and Cisco, all recent speakers at our monthly event. So now we're giving software execs a chance to hear from 'quiet giant' EMC, too, about how they plan to stay at the top," explained Corum CEO Bruce Milne, who started the popular webcast series. "Despite sovereign debt concerns, stock market gyrations, and Euro devaluation, M&A is roaring along. Don't miss this opportunity to hear from one of the true giants who shape our industry."
This special "EMC - The Quiet Giant of Tech M&A" presentation occurs as part of an increasingly popular monthly webinar Corum has sponsored since 2008. The webcast will also feature a field report from dealmakers, a market update on the current state of technology M&A market segments, including the Corum Index, valuations in software, IT, internet and related technology companies, and a profile of a successful acquisition. "
"What is EMC acquiring? Why? Who qualifies? We'll ask direct questions, and you can pose your own during the audience Q&A," promised event moderator Mark Reed, Corum Executive Vice President. "There's no other venue like this, where you can interact with and learn directly from the buyer."
Registration for the webcast event is open starting today at http://MergersAndAcquisitions.webex.com
About the Tech M&A Monthly Webcast
Corum Group's monthly Tech M&A Webinar, a concise update on the Technology M&A market conditions, key transactions and valuations, has been broadcast monthly since the financial crisis of 2008, when it was begun to satisfy the needs of software company executives for succinct and timely guidance regarding market prospects for company acquisitions. Quickly drawing a following of as many as 700 registrants for each session, the event began attracting buyer representatives from major companies in 2009, establishing a guest speaker plus market update format with Q&A at the end. Thousands of technology business executives from over 40 countries have participated to date in what is now the most successful program of its kind.
About Corum Group
Corum Group Ltd., the sponsor of the Tech M&A Monthly webcast, is the global leader for software mergers & acquisitions, having specialized in serving tech companies worldwide for the last 25 years with offices in 8 countries. "Experience makes the difference" with Corum: the firm has completed over 220 software M&A transactions spanning six continents in the process of generating over $6 billion in wealth for company owners and enabling the software M&A firm to deliver a proven merger and acquisition process for its clients. Corum also educates the software industry with conferences and publishes the most widely distributed software M&A research, including the monthly Tech M&A webcast.
Each professional M&A advisor at Corum is part of a team of experienced former software company executives, who work with the support of the software M&A industry's top researchers, writers and valuation experts, using the world's most comprehensive database of active and potential buyers of software, internet and IT services companies. This knowledge, Corum's experience and its industry expertise, ensure success in exit events for its clients. See http://www.corumgroup.com.
# # #