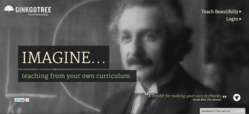 We've broken down all the barriers.
Ann Arbor, Michigan (PRWEB) January 30, 2013
Ginkgotree, a web app to help faculty build their own, online coursebooks from any resource, launched less than 4 months ago and emerged from their beta this past month. Turns out, the young, unfunded team of four is making some mega waves.
If the name sounds familiar, you may have heard about their win at the EDUCAUSE Game Changers Business Competition. Otherwise, you could've seen CEO Scott Hasbrouck demoing the product on stage at the HigherEdTech Summit at the Consumer Electronics Show 2013, alongside education technology giants like Kno, Inkling, 2U, and Coursera. Not bad for a 6-month-old, bootstrapped startup.
They're already piloting their software this semester at one highered institution, Spring Arbor University. Another 4 colleges are actively coordinating pilots or jumping right into annual licenses. Aside from all this, they have hundreds of faculty from around the world signed-up to begin teaching with Ginkgotree in the Summer and Fall terms. Now, anyone in education knows how long it normally takes for faculty and schools to adopt new innovations. To what does Ginkgotree attribute their quick strides?
According to Lida Hasbrouck, their COO, they've "broken down all the barriers." That means anyone who wants to see how Ginkgotree works can sign-up for free, and it takes minutes to turn a list of links and citations into a coursepack. To circumvent the bureaucracy that normally draws-out software adoption into a multiyear process, they targeted individual faculty sign-ups, followed by small colleges. Since their goal is to drive down materials costs for students, many faculty are seeing Ginkgotree's benefits as great return on the investment for their small student subscription fees. (Instructor accounts are free.) Of course, you also can't ignore their attention to aesthetics and ease-of-use; faculty can literally open an account and move all of their materials into Ginkgotree in under an hour, depending on the amount of resources and customization they want to include.
So what about the largest barrier of all - skepticism? Faculty and administrators who are unsure about trying Ginkgotree can poke around on their own, since "Instructor" accounts are free (from cost and commitment). There's also an intro video right on their landing page, and the team is very responsive to inquiries. (You can contact them directly from the bottom of the landing page.) A click-by-click guide to the app is available upon request.
They're currently investigating partnerships to provide users with wider content access, specifically content from the big 6 publishing companies. They are also looking to streamline their digital content sourcing process, making it another completely automated piece of their software.