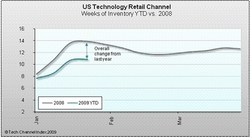 San Josa, CA (PRWEB) March 4, 2009
Despite an uncertain economic climate, Tech Channel Index reports that channel activity for US Technology Retailers is up 4 percent year to date for consumer IT and electronics product categories. This improvement is powered by the strong performance of Broadline retailers (like Wal-mart, Target, etc.) who are up 28 percent year to date. Big box electronics retailers (like Best Buy) have made steady improvement finishing the week February 14th just 2 percent below the same week last year. Meanwhile Office Supply and Online have been oscillating between black to red finishing the week down 1 percent and up 1 percent respectively.
Overall, if Broadline continues their strong performance and keeps their channel activity at least 15 percent above last year, then overall US technology retail channel will remain in the black, up 1 to 2 percent over last year.
However this news comes with caution, as retailers as they carefully manage flows and are collectively holding 10 to 20 percent less inventory than last year. Weeks of inventory carried by US Technology Retailers 2009 YTD ending January 31 compared to the same period in 2008. Read more on Channel Pulse.
Tech Channel Index has been tracking comparing the performance of technology sales within Electronics (like Best Buy), Broadline (like Wal-Mart), Office Supply and Online retail sales channels for the last three months as part of its "Road to Recovery" series. To read more about the series visit Channel Alert.
About the Tech Channel Index
The Tech Channel Index creates a single uniform view into high tech channel health with timely and detailed measurement of sales and inventory performance for major and emerging markets across the globe. As of August 2008, Index metrics are derived by aggregating and normalizing over 5 million transactions collected from over 1500 distributors and retailers each week. Participating Index companies represent over $30 billion in annual channel sales in multiple high tech product categories. The basket of 35,000 products chosen for the Index have been tested and benchmarked against established economic standards and have been found to accurately represent spending on Enterprise IT, Consumer IT and Software categories. Products included in the index are tracked across all geographies and partner segments worldwide. This approach to construction yields an Index data set that is uniquely uniform from channel-to-channel and country-to-country. http://www.techchannelindex.com.
###