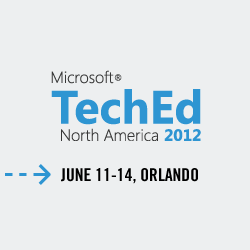 The annual Microsoft TechEd North America event is the industry's premiere technology conference for IT professionals and developers, and the most important trade show of its kind in North America
Lavaltrie, Quebec (PRWEB) December 24, 2011
Devolutions, a Canadian-based enterprise software development firm with a global footprint, announced today that it has been selected by Microsoft to exhibit at Microsoft TechEd North America 2012, which will be held on June 11-14, 2012 in Orlando, Florida.
In addition to raising awareness of its innovative enterprise software development solutions, including flagship product Remote Desktop Manager, Devolutions aims to increase its accessibility and exposure to potential partners, which will allow the company to deliver even more value to its over 125,000 users in more than 60 countries.
"The annual Microsoft TechEd North America event is the industry's premiere technology conference for IT professionals and developers, and the most important trade show of its kind in North America," commented Devolutions' CEO and founder David Hervieux. "We're honored to be invited by Microsoft to exhibit at this extraordinary and influential event, and we're excited to finally meet some of our wonderful customers face to face!
About 8,000 attendees from around the world are expected to attend Microsoft TechEd North America 2012 and participate in hands-on learning workshops, product exploration events, and ample peer-to-peer networking opportunities with Microsoft experts and other leading IT and development professionals.
For more information or media inquiries, contact Mélissa Gagnon at (450) 935-0608 or news(at)devolutions(dot)net
About Devolutions
Established in 2004, Devolutions is a Canadian-based firm located near Montreal, Quebec. With over 125,000 users in over 60 countries, the firm's mission is to develop innovative enterprise software that helps users cost-effectively, simply and effectively achieve their network management and security goals. The firm is also committed to providing exceptional technical support, ensuring an excellent user experience that exceeds expectations, and delivering high performance with superior quality. The firm's current roster of solutions includes Remote Desktop Manager, Password Vault Manager, and the recently-released official version of Remote Desktop Manager Online. Learn more about Devolutions at http://devolutions.net.
###