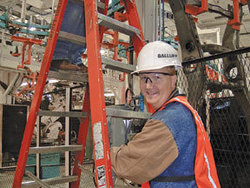 Florence, KY (Vocus) March 17, 2010
Some automation projects are just too small for a user's preferred system integrator or machine builder, and would consume too much time from internal resources. System integrators and original machine builders focus primarily on large-scale automation projects. Internal resources generally have other responsibilities that leave them with little or no time for small automation projects.
Now there is an alternative -- Balluff Technical Services. With a comprehensive menu of proven services, Balluff can provide customers with what they need to improve productivity. And, because Balluff manufactures most of the sensors, accessories, networking, and RFID components, Balluff is uniquely positioned to provide greater value for small automation projects. Some of the services Balluff provides include:

System design and integration assistance
Start-up and installation service
Process improvement services
Machine-down services
Preventive maintenance services
Training programs
Product modifications and enhancements
Balluff has provided services to many customers, across all industries for many years. By formalizing this program, Balluff is able to streamline the process and provide extremely competitive pricing. All services have a set price allowing customers to immediately understand the scope and cost of the service. Now there are no more excuses for not tackling that nagging manufacturing issue.
Editors: Please use this link for attribution:
For further information on Balluff's technical services, visit: http://www.balluff.com/techservices
Editors: See press release online and download high resolution press images:
http://www.balluff.com/Balluff/us/NewsChannel/Press+Releases/en/2010-03+Balluff+Technical+Services+PR.htm?pr=techservices
Balluff Inc., the U.S. subsidiary of Balluff GmbH, Neuhausen, Germany, is a leading manufacturer of a wide range of inductive, optical, capacitive and magnetic sensors as well as linear position transducers and ID systems. Balluff products for OEM and factory floor solutions are used to control, regulate, automate, assemble, position, and monitor manufacturing, assembly, and packaging sequences for industries including metalworking, automotive, plastics, material handling, wood processing, aerospace, electrical, and electronics.
Editors: please contact Vestal Simms or Kelly Panko at 1-800-543-8390 for clarifications and additional information, or e-mail vestal(dot)simms(at)balluff(dot)com, kelly(dot)panko(at)balluff(dot)com
Direct reader service inquiries to: Kelly Panko, Balluff Inc, 8125 Holton Drive, Florence, KY, Phone 1-800-543-8390, or http://www.balluff.com
In Canada only, contact Norman J. Clarke, President, Balluff Canada, 2840 Argentia Road, Unit # 2, Mississauga, ON L5N 8G4, Phone 1-800-927-9654 or
Tel: 905-816-1494, 905-816-1411, E-mail: balluff(dot)canada(at)balluff(dot)ca
###