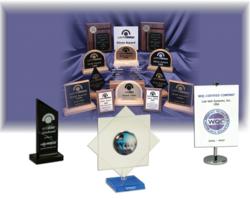 Lab-Volt has received more Worlddidac awards, notes Dan Rodriguez, Executive VP at Lab-Volt , than any other manufacturer of scientific and technological training systems for student and classroom use.
(PRWEB) July 31, 2012
Lab-Volt is proud to announce that they have been internationally recognized for their technical training excellence by the Worlddidac Foundation. Their new state-of-the-art Satellite Communications Training System is the recipient of the Worlddidac Award—an honor given to few over the last 26 years. Lab-Volt Model 8093 is designed specifically for hands-on training of modern satellite communication technologies, both analog and digital.
The Satellite Communications Training System, Model 8093 was evaluated by a jury of experts from some of the world's most renowned schools, businesses and industries. After a rigorous assessment, Lab-Volt's newest technical training system was selected for its forward-thinking approach and modern survey of the main technologies in an integrated application. Previous judges for the award hailed from institutions like MIT, Global Education Management Systems, TEEM and some of Switzerland's top universities.
The Worlddidac Award is only given once every two years and is the most recognized international prize in the education sector. The award is given only to manufacturers that display excellence and innovation with a high potential to improve learning or teaching. This year's award will be presented at the Worlddidad Basel 2012 in October.
Lab-Volt will officially launch the system by the end of summer 2012 but they are giving an overview of the new system now by visiting here.
About Lab-Volt
Lab-Volt is a global leader in the design and manufacture of hands-on training laboratories for public education, industry and the military. Lab-Volt is recognized as a world leader for high-quality, cost-effective instructional systems that integrate the latest technological advances with sound teaching practice, offering comprehensive, multimedia-rich, e-learning, blended learning, and custom learning solutions, as well as extensive, cutting-edge, hands-on and simulation training curriculum.
Sign up on Facebook to receive more information.