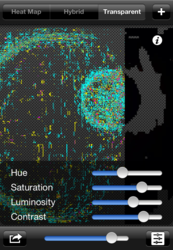 Today, there's more skepticism regarding the authenticity of images that appear online and in newspapers.
Cincinnati, OH (PRWEB) December 19, 2011
With imaging programs like Adobe Photoshop becoming increasingly sophisticated, the digital manipulation of media images is becoming more commonplace. But a new iPhone application called Shopped? is giving people the ability to distinguish fact from fiction when it comes to the photos they encounter in everyday media.
"Today, there's more skepticism regarding the authenticity of images that appear online and in newspapers and magazines," says Michael Thomason, managing member of Everyday Apps, the software vendor behind Shopped?. "Whether it's a celebrity photo from the tabloids or a snapshot from a political news piece, a startling number of photos are doctored before they go to press. The American public values the truth in media reporting, and I've given them a tool to uncover that truth."
Shopped? uses advanced heatmap filtration technology to let users check virtually any photo for evidence of digital manipulation. The heatmap filter highlights different error levels in the image. If an image is heavily manipulated, the heatmap displays a variety of colors in correlation to the various edits. With a single touch, images can be imported into Shopped? from the web, email, iPhone photo library, or other applications. Users can share their 'evidence' by exporting filtered images to blogs, Twitter, and Facebook or by sending them via email.
Thomason says he got the idea for Shopped? in 2008 after reading about other people using simular technology, which is now being explored for use in law enforcement. "I had this idea I could build an app using the same technology, and I did," he says.
Everyday Apps has produced a variety of other iPhone applications, including Wordflick—a fast-paced arcade-style word game for iOS devices that has been repeatedly featured on Apple's App Store home page.
"Shopped? appeals to people's innate curiosity, and I think it will spark some controversy," says Thomason.
Shopped? is available in seventeen different languages for 99 cents from the iTunes App Store.
Download the software on iTunes:
http://itunes.apple.com/us/app/shopped/id483154943?mt=8
Read about the application on Facebook:
http://www.facebook.com/pages/Shopped/326506104026837?sk=wall
###