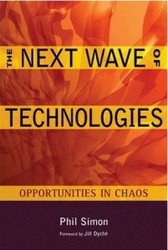 Caldwell, NJ (Vocus) May 26, 2010
Phil Simon's The Next Wave of Technologies: Opportunities in Chaos helps organizations understand and how to utilize emerging technologies. More of a practitioner's guide than an theoretical text, the book strives to help organizations avoid making the same IT management mistakes of the last 25 years. While serving as a survey of the latest technologies being offered, each chapter addresses:
how to determine if an organization is ready for a specific technology
how to go about getting it ready
how to measure success
key risks and red flags
Specific topics include social networking cloud computing, mobility, SaaS, green IT, business intelligence (BI), open source software, enterprise risk management, enterprise search, service oriented architecture (SOA), master data management, and others. It also includes a foreword from author and industry expert Jill Dyché.
"If you make a living in IT, you must read this book. It's the cutting-edge download on how software is built today. What I like most about it is the realistic narrative Simon weaves, being very clear about the dangers of overzealous IT departments and giving very practical advice about how far to jump and when. It's so nice to find a technology guy who can actually write. If you have anything to do with building scalable software today, you really should get and read this book."
David Siegel, author of the excellent book Pull: The Power of the Semantic Web
A video trailer of the book can be viewed here:
http://www.philsimonsystems.com/books/the-next-wave/nwot-video/
This is Simon's second book. He is also the author of Why New Systems Fail (Cengage, 2010), an acclaimed book about IT project management.
Review copies are available for media members.
###