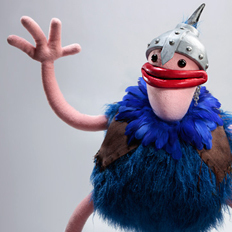 Brooklyn, NY (PRWEB) August 4, 2009
The Furry Puppet Studio has launched its new website, and with it, a new approach to classic puppet building that promises to transform industry standards.
The studio updates the old-fashioned technique for building puppets, including sculpting blocks of foam rubber by hand, using scissors, and coating the foam with fine-textured fleece. When paired with the right materials, and in the right hands, these simple processes create a finish that is complimented by the modern high definition lens.
"The fact is that puppets are still being built in the same way as in the 70s", says Zack Buchman, the studio's Founder and Creative Director. "A few things have changed, though: modern technology and an updated set of expectations. For example, the use of "muppet fleece" was favored in the past for its fuzzy texture, because it could easily hide seems. The fuzziness was not an issue, because it was virtually undetectable in TV or film. But today, through a digital lens, this kind of fleece just looks raggedy; outdated."
The unique selling point of Furry Puppet studio is originality, avoiding generic patterns and the use of stock parts or molds, two elements that have fueled the recent commercialization of the industry.
Mr. Buchman believes that the studio's approach to puppet building will soon become the standard for the entire industry. "This just may be the jump start that gets puppets back into mainstream media. Our custom puppets, which are created with precise attention to detail, will slowly replace the puppets of decades past."
# # #