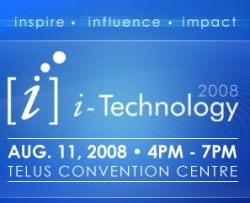 Tom Mendoza is an icon and a legend in the technology industry
Calgary, AB, Canada (PRWEB) July 16, 2008
Long View Systems (Long View) is pleased to be hosting i-Technology 2008, its official executive seminar series and the first event of its kind in western Canada. i-Technology will provide attendees with innovative perspectives on changing influences in business culture and technology.
Inspirational keynote presentations from renowned speaker Tom Mendoza, former President and Vice Chairman of NetApp, as well as Gartner Fellow and VP Ken McGee and former NHL goalie, Kelly Hrudey, will leave a lasting impact on the audience. An Exhibitor Showcase will allow attendees to visit with representatives from top industry vendors including Cisco Systems, VMware, Google, and others. The event, emceed by Dave Kelly of CityTV's Breakfast Television, is on Monday, August 11th at the TELUS Convention Centre in Calgary, Alberta.
This new distinctive series opens a window into the changing influences on today's business culture and how they relate to technological as well as personnel resources now and into the future. The esteemed speakers will focus on how companies can take the lead in their fields by developing effective leadership and teamwork practices. Other spotlight i-Technology participants include Microsoft, Symantec, Axia, and Akorri.
"We've designed i-Technology to inspire and influence people, while having a real and quantifiable impact on how they conduct their business," says Souzan Basmahjian, Manager of Marketing & Communications at Long View. "This series will bring together individuals from different areas of the business community and technology industry to hear a message being echoed by today's technology leaders."
"Tom Mendoza is an icon and a legend in the technology industry," adds Dan Sottile, Senior VP - North American Sales, Marketing, and Business Development at Long View. "He is held in high regard among our valued clients, sponsors, and partners and we are honoured to have him speak at this premier event."
Event Summary:

Time: Monday, August 11, 2008
Location: TELUS Convention Centre - 120 9 Avenue SE, Calgary, Alberta
Exhibitor Showcase: 2-8PM, Keynote Seminars: 4-7PM
For more information, or to register, please visit http://www.i-technologyseries.com.
About Long View Systems:
Long View Systems is a leading IT services and solutions organization with over 500 technical consultants across North America. We provide our clients with the best IT people and offer complete solutions focused around IT infrastructure, user support, and technology procurement. For more information, please visit http://www.longviewsystems.com.
For more information please contact:
Souzan Basmahjian
Manager, Marketing & Communications
Long View Systems
Telephone: (403) 515-6900
Copyright © 2008 Long View Systems; all rights reserved.
The names of actual companies and products mentioned herein may be the trademarks of their respective owners.
###