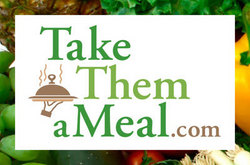 Harrisonburg, VA (PRWEB) May 19, 2010
TakeThemAMeal.com, founded in 2008, has now been used to coordinate over 100,000 meal deliveries to people in need around the world. This easy to use web site simplifies the process of coordinating meal deliveries to someone who is in need.
A meal coordinator creates a customized online sign up sheet that makes it easy for friends and family to bring meals. In just a few minutes, phone numbers, driving directions, food allergies, and any other helpful details can be communicated to everyone involved.
TakeThemAMeal.com was launched when a community came together to meet the needs of a family in Harrisonburg, Virginia. Now two years later, use of the web site has increased dramatically. The web site is often used when someone is sick, after the arrival of a new baby, or while a family member is receiving medical treatments.
Founders, Scott Rogers and Adina Bailey, operate the web site from Harrisonburg, Virginia.
Visit TakeThemAMeal.com for more information, or contact Scott P. Rogers at 800-915-7715.
# # #