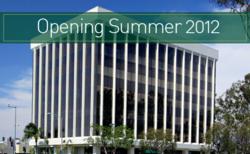 "The Costa Mesa location extends TechSpace's heritage of delivering extraordinary office space and technology solutions to small- to mid-sized businesses" said Victor Memenas, Chief Executive Officer for TechSpace. "We're excited to bring our model of co
Costa Mesa, CA (PRWEB) December 13, 2011
TechSpace Holding Co., answering strong demand for its flexible office space and technology services, today announced plans to expand in Orange County by opening its sixth TechSpace business center to be located at 3420 Bristol Street, Costa Mesa, California. TechSpace Costa Mesa will occupy three floors of the California Bank & Trust Building. The unique 30,000 square foot TechSpace Costa Mesa facility will feature distinctive architecture and progressive design elements and will occupy three floors of prime real estate in this prestigious area. The site is scheduled to open in summer 2012 and will join existing locations in Aliso Viejo, Los Angeles and New York City.
"The Costa Mesa location extends TechSpace's heritage of delivering extraordinary office space and technology solutions to small- to mid-sized businesses" said Victor Memenas, Chief Executive Officer for TechSpace. "We're excited to bring our model of cost-effective, efficient, flexible office space to the South Coast Plaza market. It's a great alternative to traditional commercial office space."
The new campus will be located in the South Coast Plaza area of Orange County, defined by its proximity to the South Coast Plaza Shopping Mall and John Wayne Airport, and comprising the surrounding communities of Santa Ana, Costa Mesa, Irvine, and Newport Beach. South Coast Plaza is the center of an energetic business community that offers many amenities, including premier office and residential environments, restaurants, hotels and leading cultural and arts venues along with unsurpassed shopping. This location offers easy access to the 55, 405, and 73 freeways providing direct access to Los Angeles, San Diego and the Inland Empire.
TechSpace Costa Mesa will feature smartly configured floor plans designed to promote worker productivity in a collaborative environment. The space will be flexible, including interconnecting and scalable offices, fully-equipped conference rooms, and various business services. An advanced on-site technology platform will provide an enterprise-class, Tier 1 IT infrastructure complete with a private, firewalled data network, dedicated and burstable internet connectivity, advanced voice telecommunications, and e-mail, web, and application hosting services. With everything from workstation furniture, mail room and service center, advanced telecommunications, and reception services, companies will be able to preserve capital and keep overhead to a minimum, while focusing on enhancing their core competencies and growing their businesses.
"We are excited to partner with The Offices of South Coast Plaza, one of Orange County's premier real estate companies," said Memenas. "Their commitment to excellence mirrors our commitment to our clients. TechSpace Costa Mesa will allow us to expand our outstanding customer service and highly flexible, low commitment model to many more companies seeking to grow their businesses without the burdens of long-term leases and unnecessary capital investment."
About TechSpace:
With multiple facilities across the United States, TechSpace's unique outsourcing platform for companies combines flexible workspace options with completely integrated state-of-the-art technology and business services. This 'alternative office space' formula preserves capital and keeps overhead to a minimum, creating and ideal solution for small- to mid-sized companies, especially during today's unpredictable economic times. Scalable terms allow room for upsizing or downsizing as necessary without the high cost of moving, including everything from workstation furniture, advanced voice and data telecommunications, IT infrastructure, reception services and office supplies. By utilizing this platform companies are free to concentrate on enhancing their core competencies while more effectively managing their businesses. For more information, visit http://www.techspace.com.
###