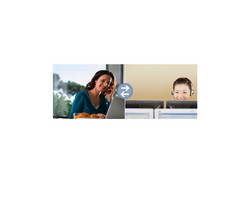 Sammamish, WA (PRWEB) April 8, 2009
As society becomes more and more dependent on digital technologies, there is also a swelling emphasis on things being green, (and more energy-economical), as people become more mindful of their impact on the world around them. Folks now might have smartphones, mp3 players, laptops, desktops, digital cameras, stereo Bluetooth headphones, home theater systems, flat-panel televisions, and any number of other electronic devices.
All of those devices add up to a lot more overall power consumption than there used to be and every day the call to "go green" gets louder. For those looking to help downsize their carbon footprint and lessen the impact on the environment, even if it's just a little bit, take a look at these five tips from BluePhone Personal Tech Experts:
Power down - Make sure to turn electronics off all the way when not in use. A computer using a screensaver is still drawing power, and, while standby mode is better, it still draws power. If an electronic device is used infrequently, or if you are going on vacation, the best way to ensure it is not using power is to unplug it from the wall.
Unplug battery chargers - Chargers plugged into the wall can draw energy, even when not charging or after charging has completed. Take care to unplug all chargers, whether for a laptop, digital camera or a cell phone. The Department of Energy runs a fun site aimed at kids called Lose Your Excuse that offers practical tips for saving energy. Additionally, there is a more serious site at the Energy Education Home Page is chock full of all kinds of facts and tips.
Use a laptop computer - If there is an option, forego a desktop computer for a laptop. The BBC reported in 2008 that the average laptop uses 85 percent less energy than a comparable desktop. And even in idle mode a laptop uses considerably less energy. Throw in the portability factor, and, unless there's a strict need for a desktop computer, a laptop makes much more sense.
LCD versus plasma television - For a lot of people, the digital transition in June means springing for a digital television; most popular are the flat-panel designs that are really sleek. The average power consumption for a typical plasma television is 339 watts, and 213 watts for the average LCD. That's more than a 37 percent difference! Of course, for someone who is really into saving power and can wait, keep an eye out for new cutting-edge LED televisions that are said to consume 40 percent less power than a comparable LCD.
Proper electronics disposal - When an electronic device has expired, it's also potentially the most important time to be aware of the impact it could have on the environment. Make sure to properly recycle or dispose of the item, as many electronic devices contain hazardous materials, such as mercury. Luckily, The Environmental Protection Agency runs a site specifically for what it calls "eCycling." It helps people find what they can recycle and where to recycle it. Moreover, websites, such as the Department of Energy, can provide more useful practical tips for saving energy on a grander scale, and for consumers to be more efficient in day to day usage.
Additionally, online computer support experts like BluePhone can ensure all systems are running smoothly on the technical side of things. BluePhone Personal Tech Experts are extensively trained and certified to resolve nearly any computer software problem, offer expert advice, and troubleshoot and fix hardware issues. To see first-hand, register for the BluePhone two-week free trial and enjoy full, unlimited access to BluePhone Personal Tech Experts.
About BluePhone
BluePhone is a leading online computer support company committed to helping members get the most out of their PC, Macs, software applications and connected devices. Using remote-desktop technology by Cisco WebEx™ to diagnose, repair, and optimize your computer, BluePhone resolves hundreds of computer problems every day. The company's success is measured by the quality of service and satisfaction provided to each member, earning BluePhone a best-in-industry 98% customer satisfaction rating. BluePhone Personal Tech Experts are certified solution engineers who diagnose and fix problems that plague computer users daily - security, configuration, desktop performance - and things like how to organize digital photos or making devices like MP3s deliver maximum enjoyment. BluePhone Personal Tech Experts are extensively trained and certified to resolve nearly any computer software problem, offer expert advice, and troubleshoot and fix hardware issues. BluePhone membership includes unlimited assistance for all the computers in a household (up to 3 PCs or Macs) for $199.95 per year, or a monthly membership for $24.95, or one-time service calls for $89.00. BluePhone offers a money back guarantee. Members get assistance 24 hours a day, 365 days a year by phone, email, chat or remote computer access. For additional information, visit http://www.bluephone.com or call 877-442-BLUE (877-442-2583).
# # #